This is going to be a picture overload! I had over 1200 pics to go through and I narrowed it down as much as I could there were just so many things I wanted to post!
On July 10 we set out to go on an Alaskan cruise with the Tolman Fam, Zimmerman Fam, and Grandpa and Grandma Bateman! It was so much fun and we were able to see so much so here we go....
Day 1: Bon Voyage!
-We woke up Sunday morning around 6:30 so we could be out the door by 7:30 and by some miracle we were pretty close to being on time!
-We had to load all of the luggage and there was a ton! I had pictures of all of that but I had to delete them to format my memory card. (I am still trying to learn all the tricks to my camara)
-Then we were off we stopped at McDonalds for a quick breakfast and then about 3 bathroom stops and touring the whole city of Seattle on accident, and a quick lunch at the coolest Red Robin Ever we made it to the pier!
-From there it was pretty much a mad house but we made it on the ship. It felt a lot like an airport with how much security you go through and we were so surprised on how many little kids there were!
-From the second we got on the ship we were Amazed! The thing is GIGANTIC!
-We went and checked out our rooms and met back at the pool to make plans.
-From there we made the best purchase of the whole trip in my opinion... Our drink cards! With that little sticker on our card we could have as much pop, mocktails, milkshakes, and juice we wanted! We took full advantage of that one!
-We all stood around the top deck to watch us take off and it is crazy how fast those ships can go! We had the safety drill to learn how to put our life jackets on, ate dinner in the dining room and met our AWESOME waiters, and went to a show!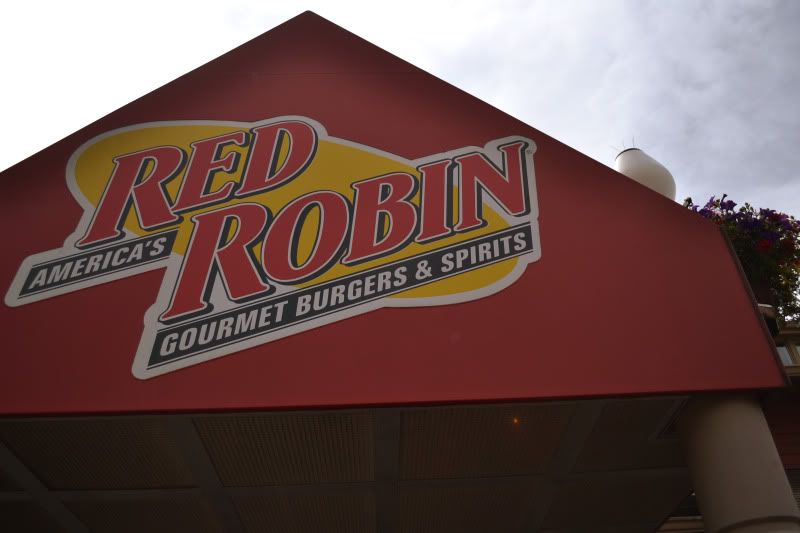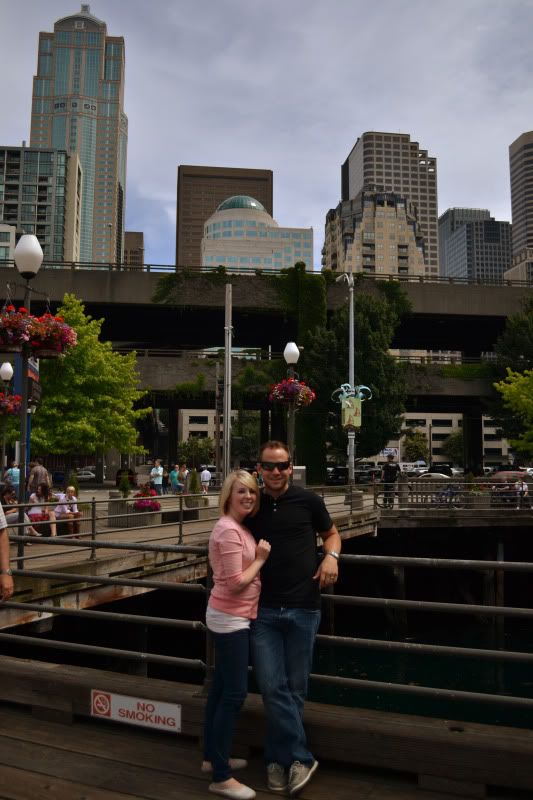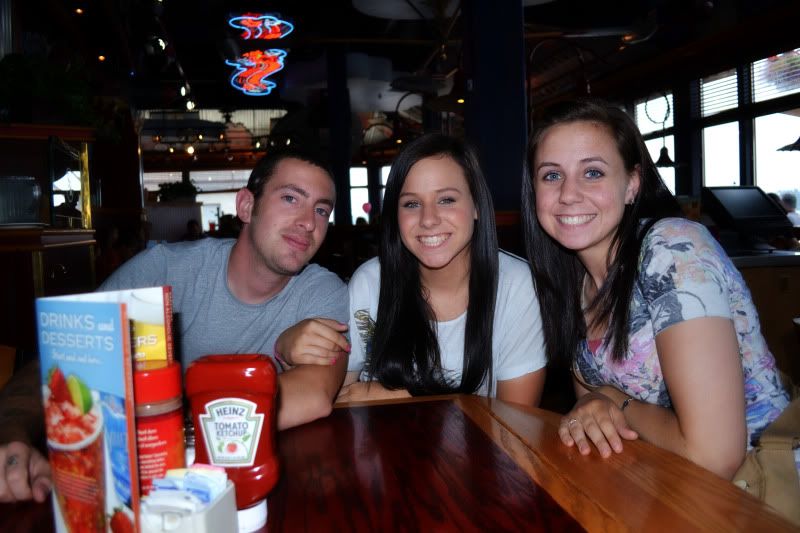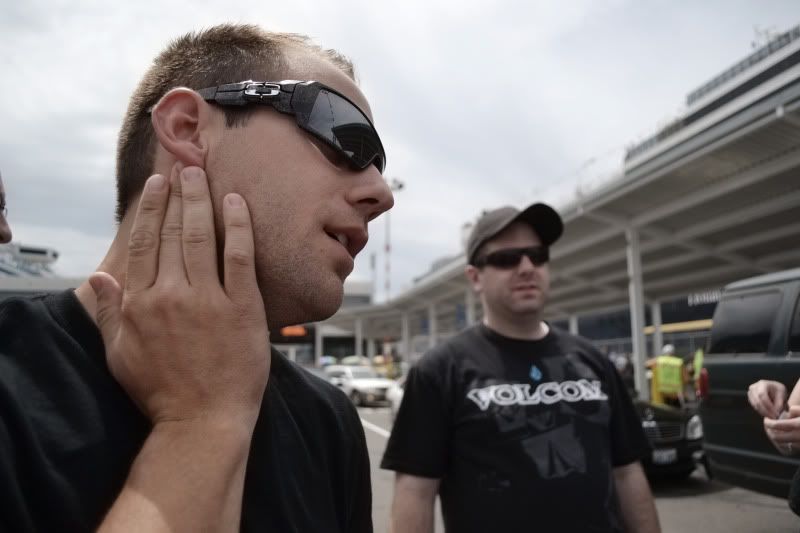 Putting his sea sick patch on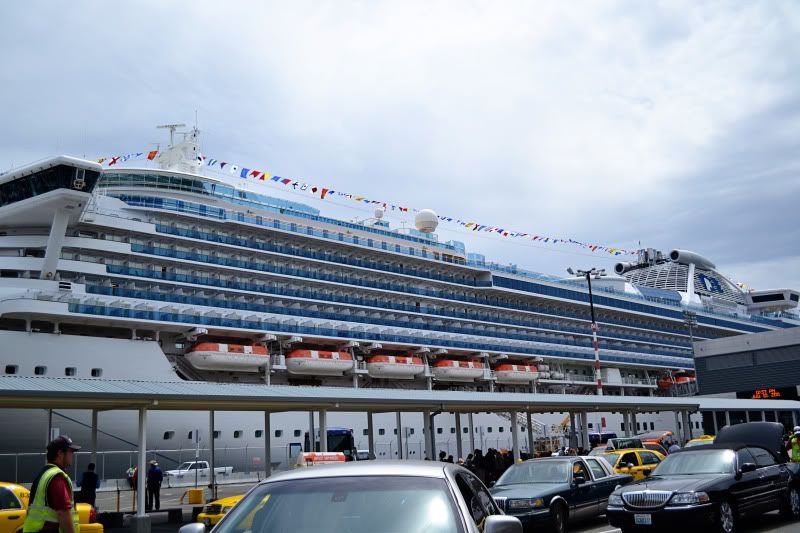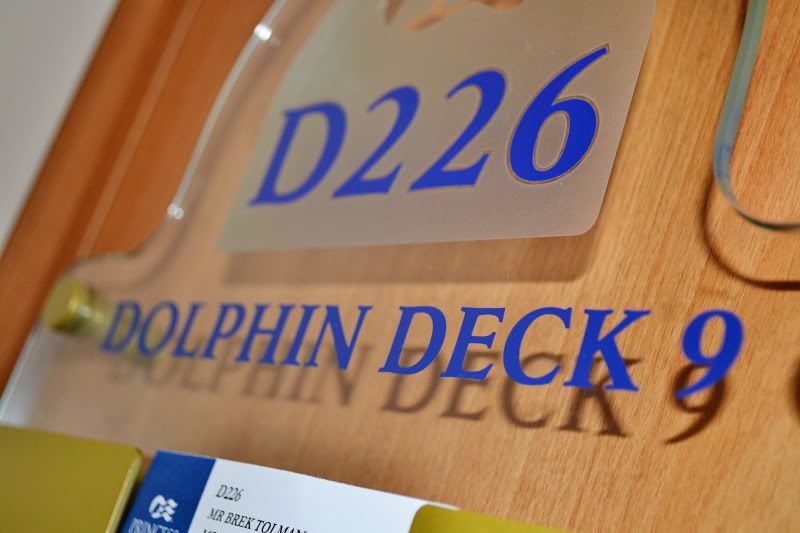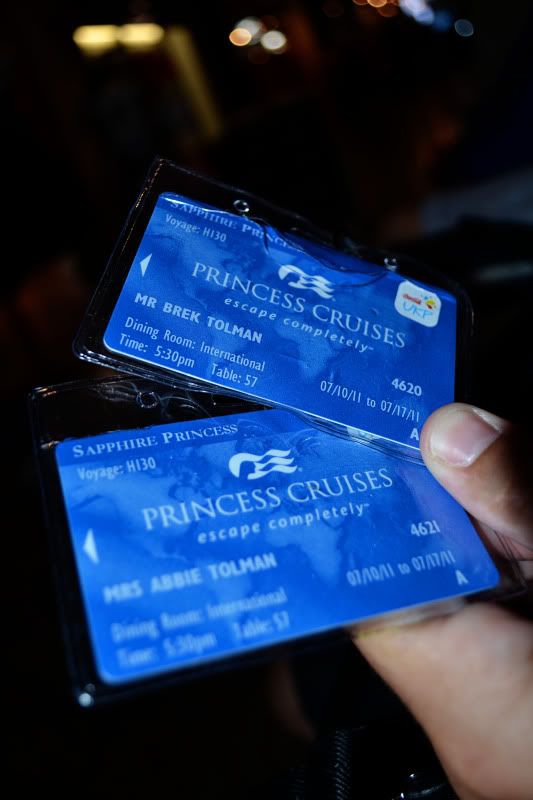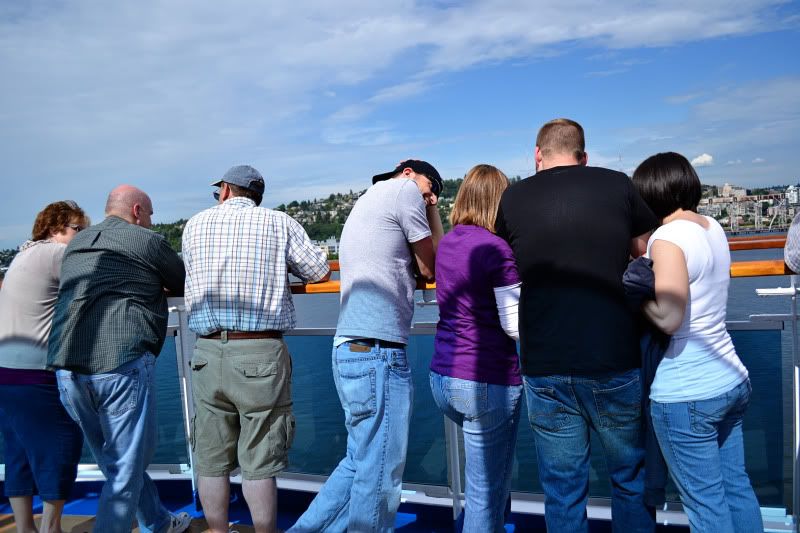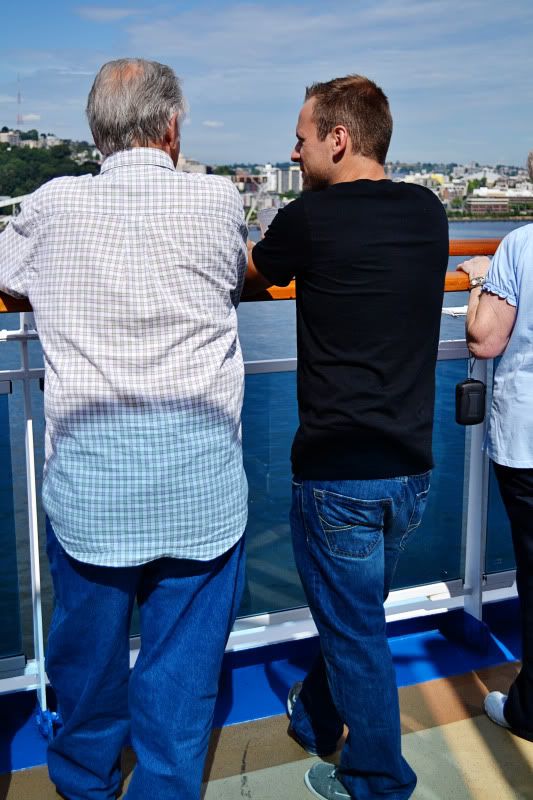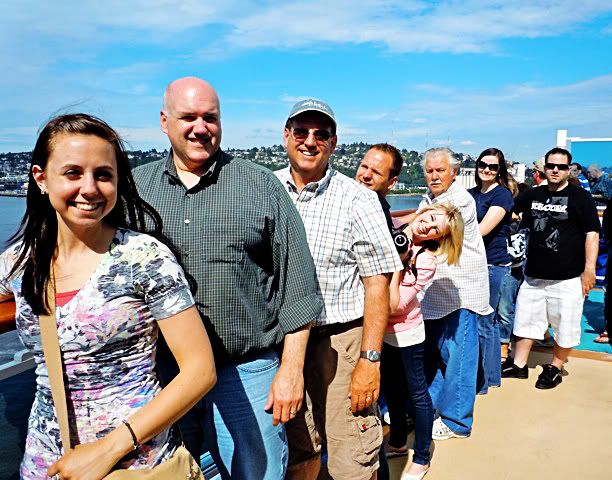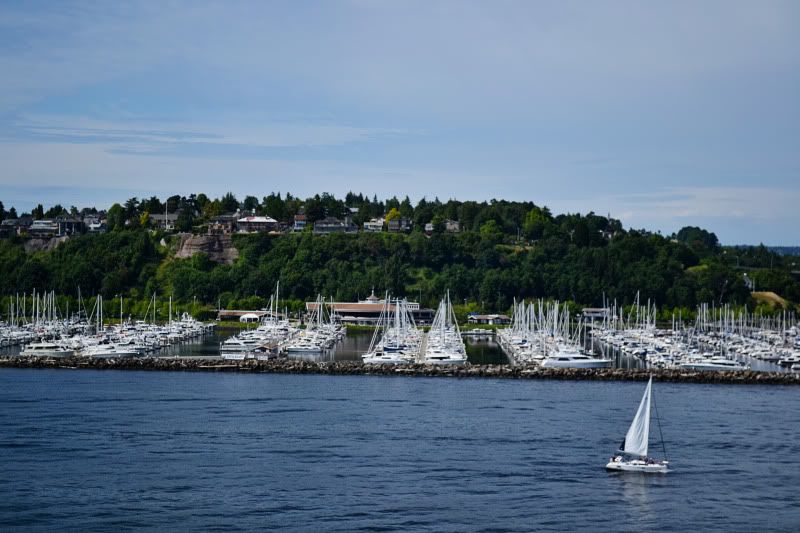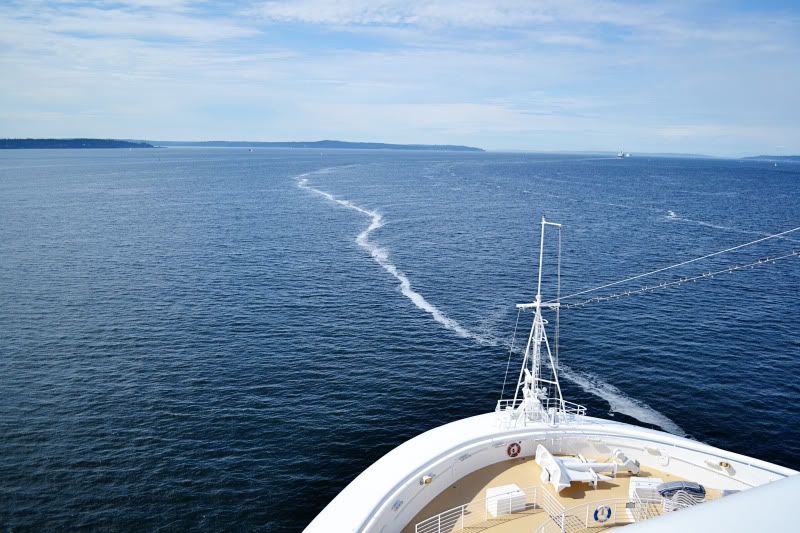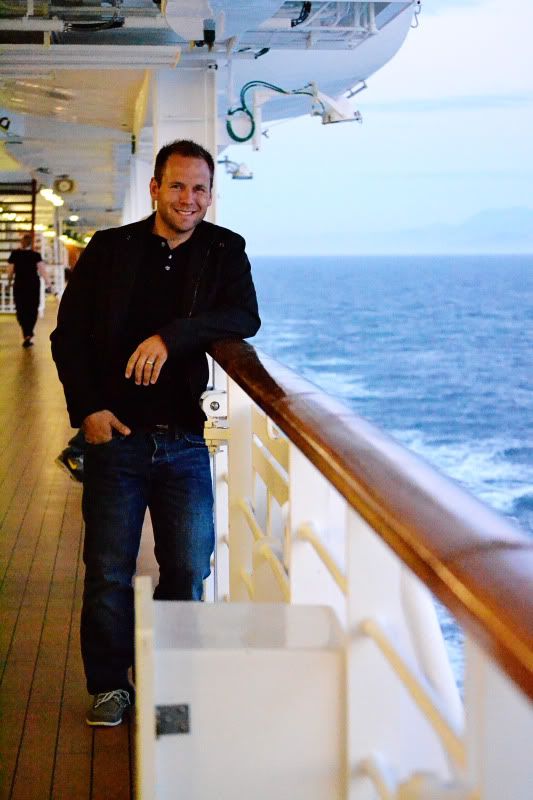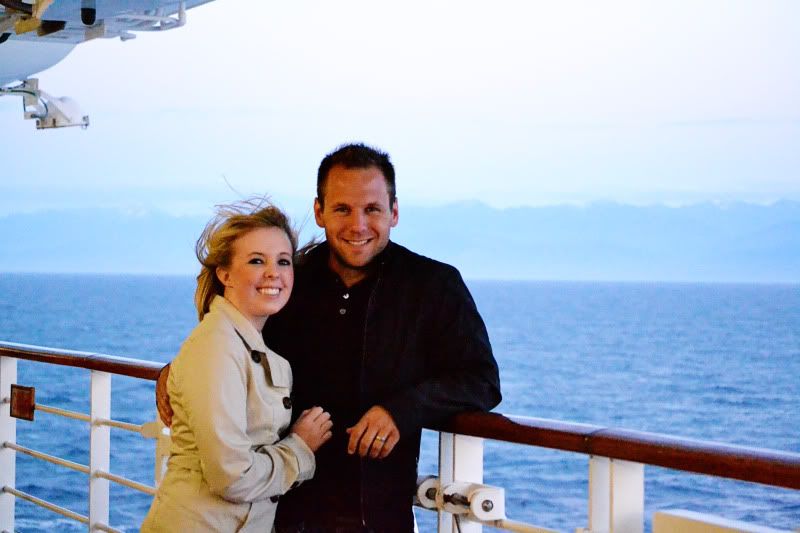 Day 2: Day at Sea
-Our rooms were on the inside of the ship so when the lights were off it was pitch black! It was wonderful everyone slept sooo good all week long!
-We Woke up and got ready... first experience with the teeny tiny shower ha it was so little! Then went down to the buffet for breakfast and i have never had such amazing french toast in all my life I am still craving it!
-We spent the days eating pizza and ice cream and anything else to our hearts content ,playing games, and watching out the windows for dolphins and whales!
-It was the first dressy night at dinner and it was fancy! Delicious food, Fabulous waiters, and fun family!
-The picture taking after was quite an adventure to find a place that we could actually take the pictures!
-Then it was off to the comedy show! It was hilarious!
-After the show we ran back to our rooms and put our swim suits on and spent the rest of the night in the hot tub on the back of the ship! We saw light houses and crazy ships pass us and it was so much fun sitting in the hot tub in the middle of the ocean!
-Swimming always makes you hungry so we got out froze our buns off running indoors as fast as we could and hit the buffet!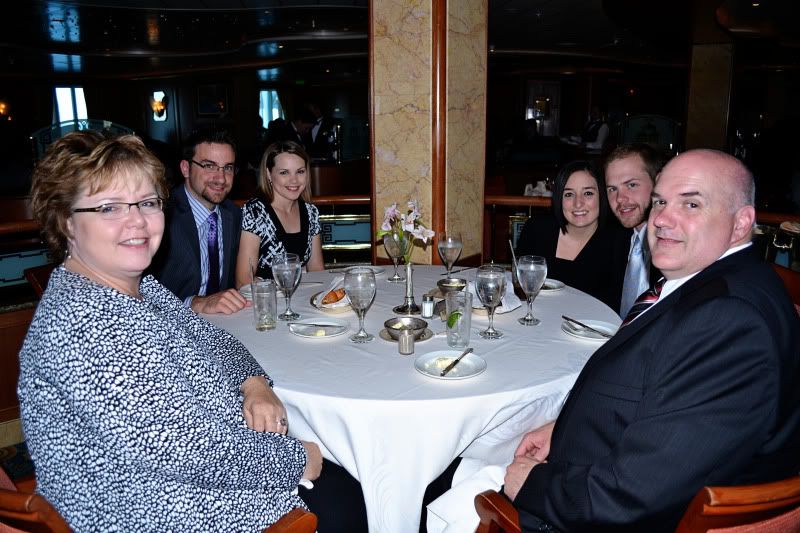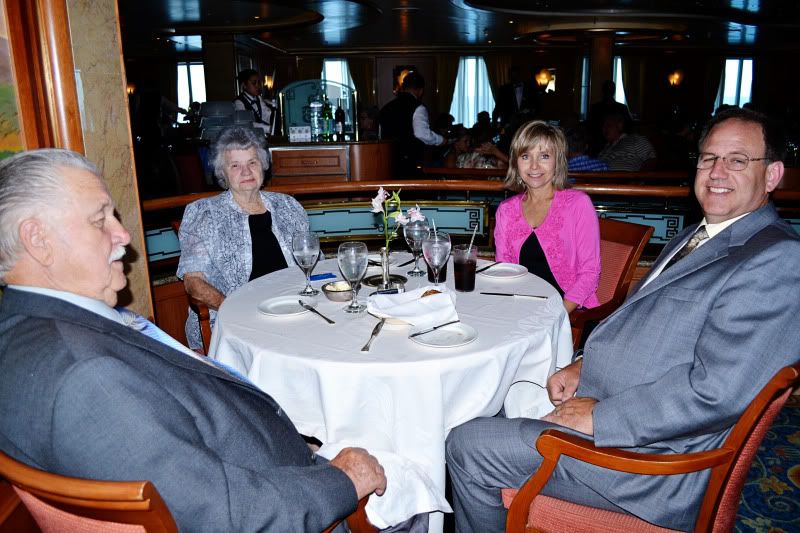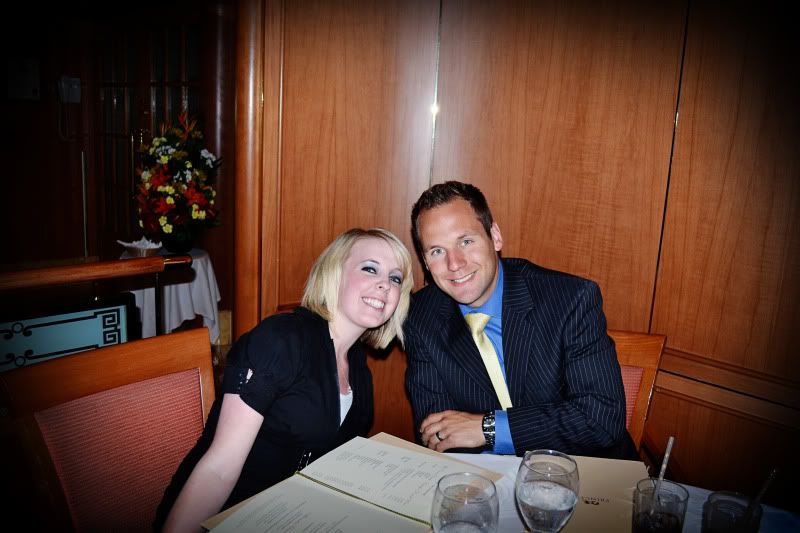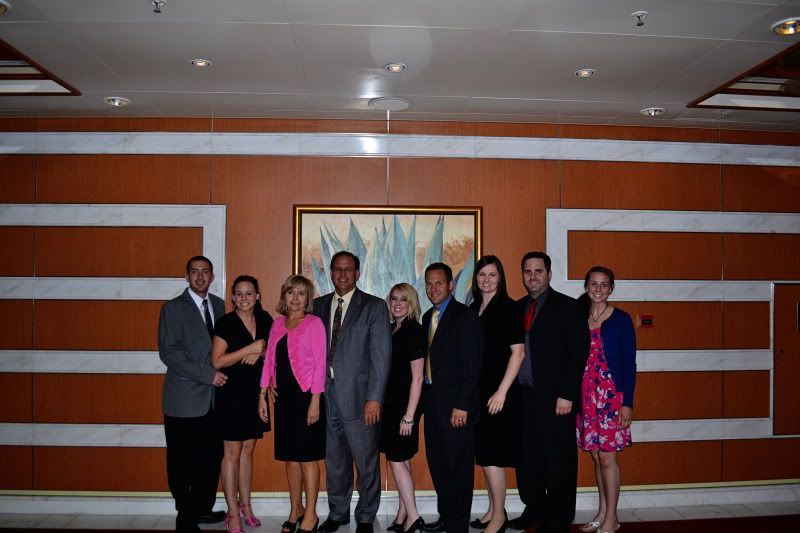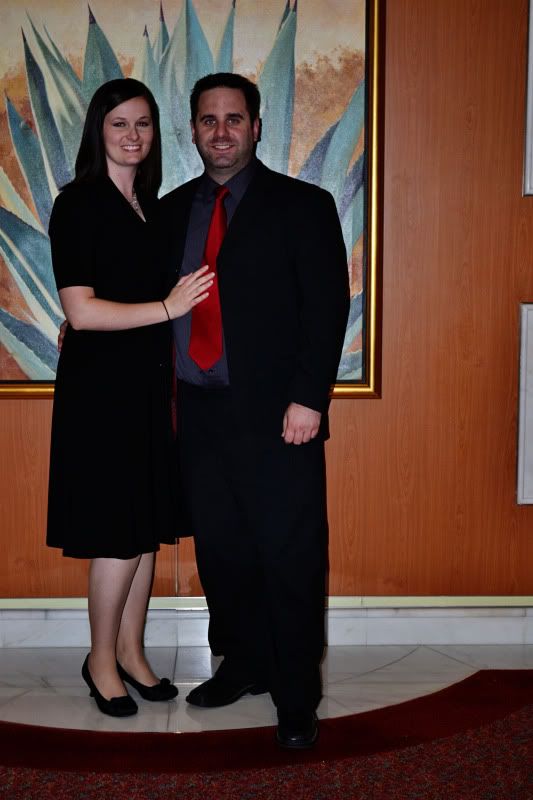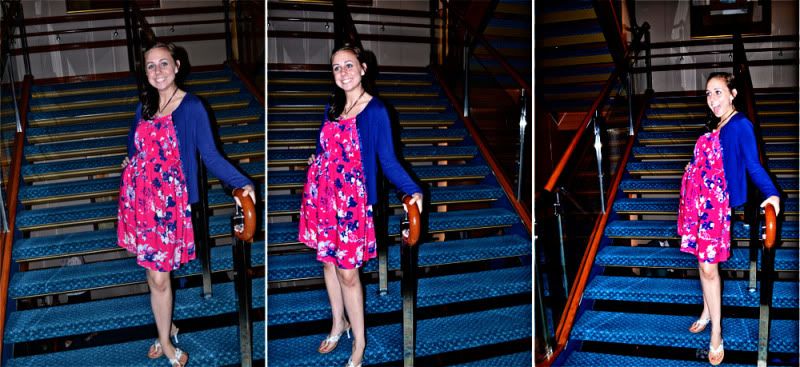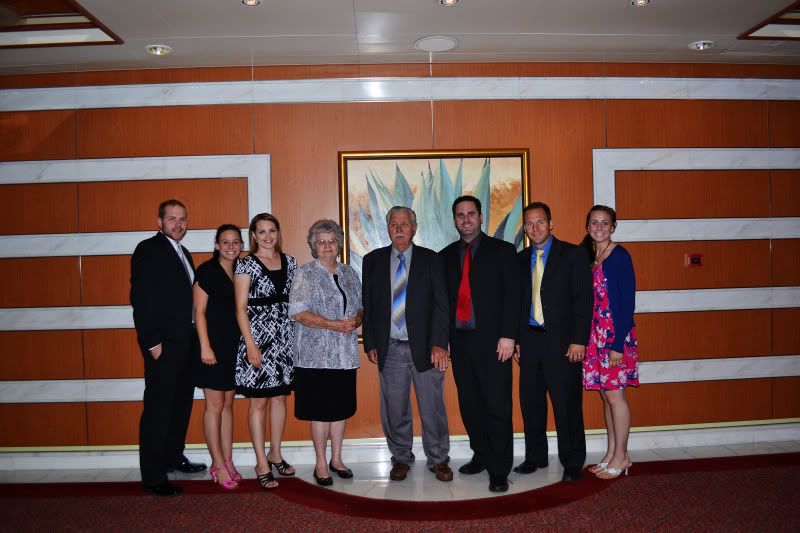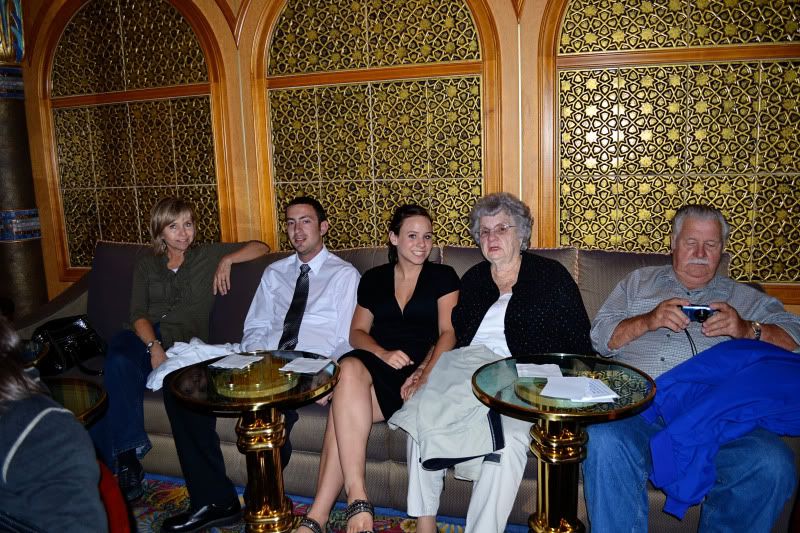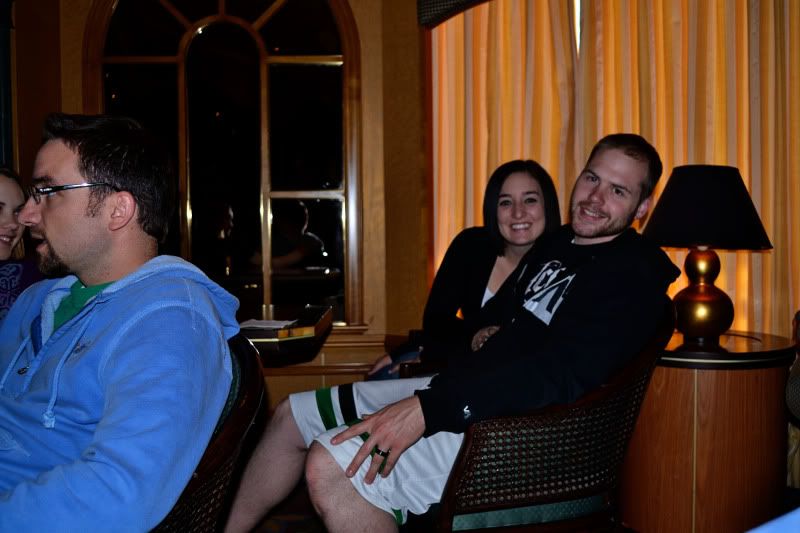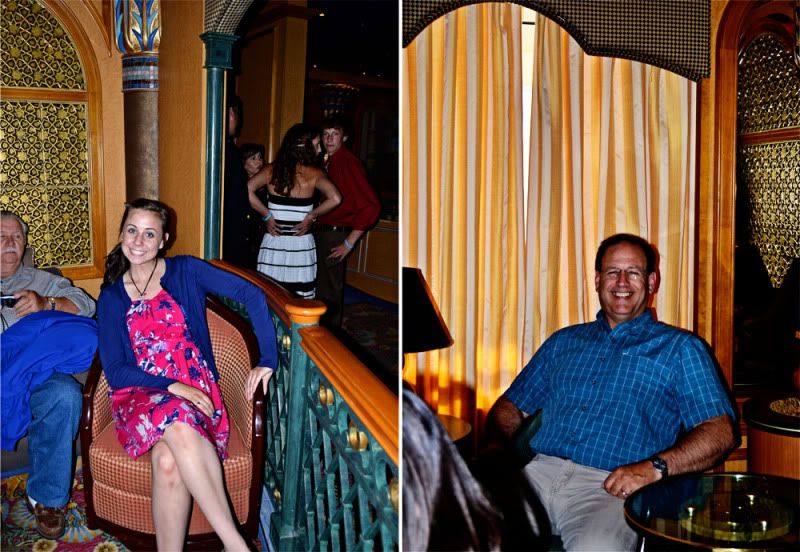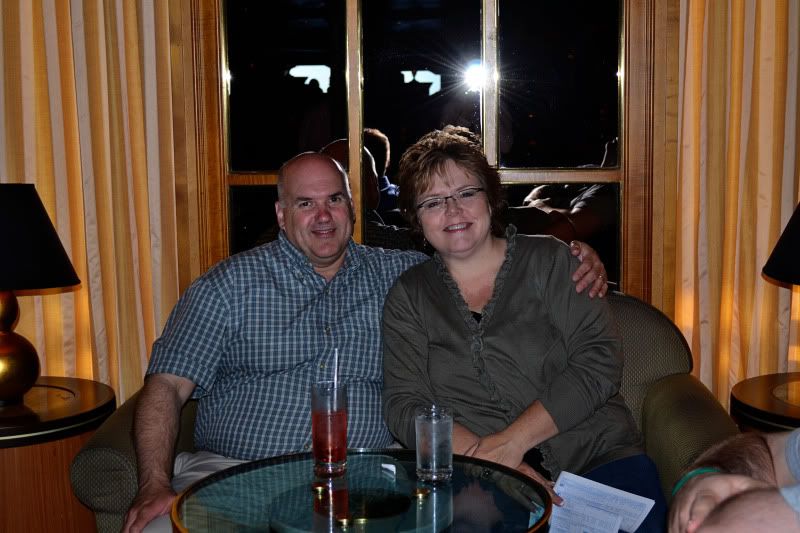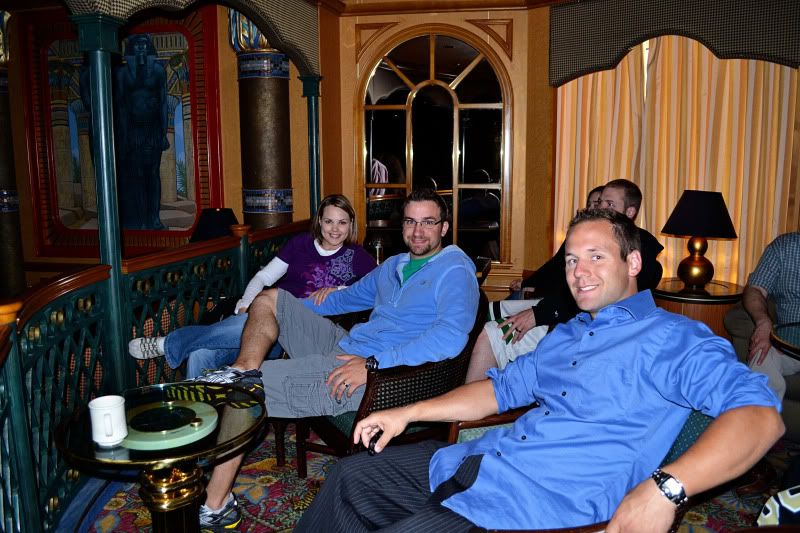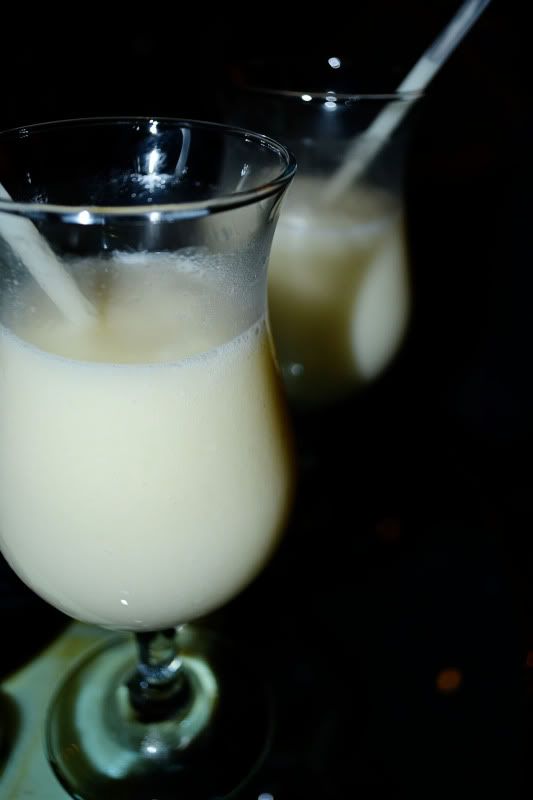 We had one of these almost every night!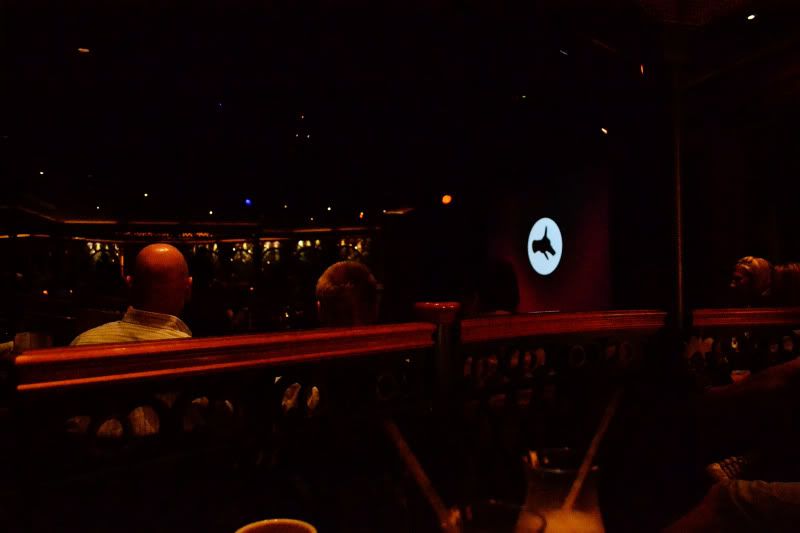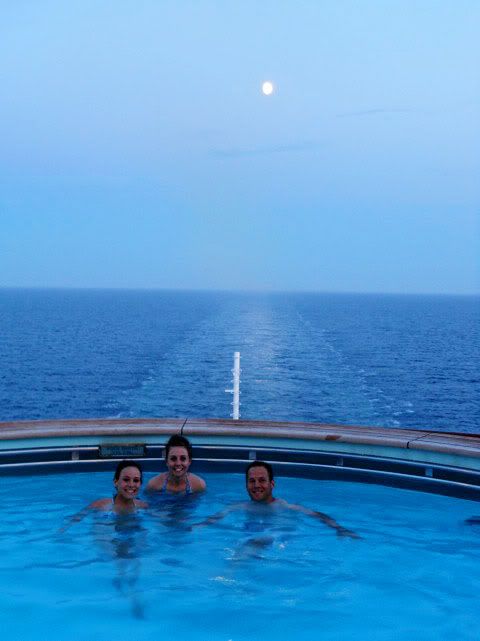 These 3 were the only ones brave enough to swim in the actual pool that night
Day 3: Ketchikan Alaska
-We woke up already docked in at Ketchikan!
-Brek and I forgot to change our clocks back so we were up an hour earlier than everyone else so we ate some of that fabulous french toast and went and hung out on the back of the ship until everyone else came to meet up.
-We went into the town and walked around for a while and hiked the Married Mans trail
-Justin and Kate found lanyards for our cards which were awesome
-Then we went to the way fun Lumberjack show! I wasn't even sure if I wanted to go to this but I am so glad I did it ended up being one of my favorite things we did!
-We figured out some tricks with our camera
- Then we went back to the ship to watch us sail away!
-There were crazy kids that were jumping off some big thing on the docks and we got to see the coast guard escort our boat out to sea
-After that we played some more games and then went to dinner
-And it was back again to the hot tub except this time way more people had the same idea we had so us acting totally cool spread out so we took up the whole thing so no one wanted to squeeze into it with us! haha I actually went into the pool with Brek this night but it was way to cold so i just stuck with the hot tub!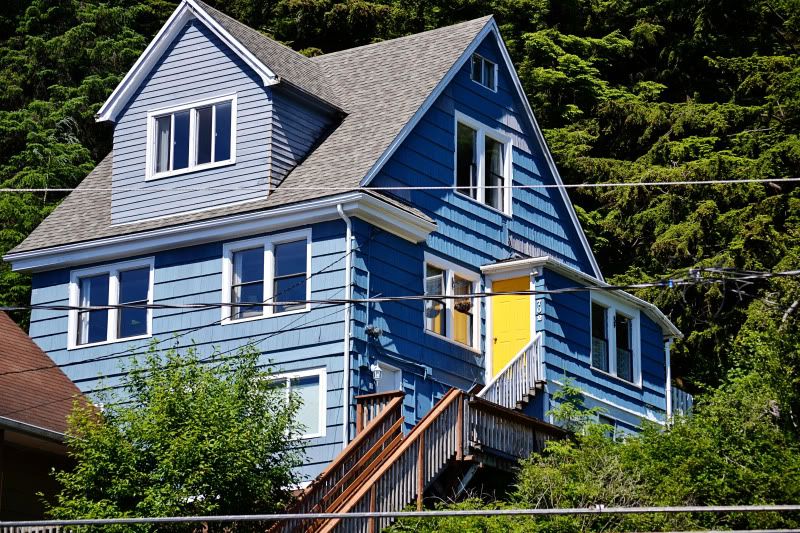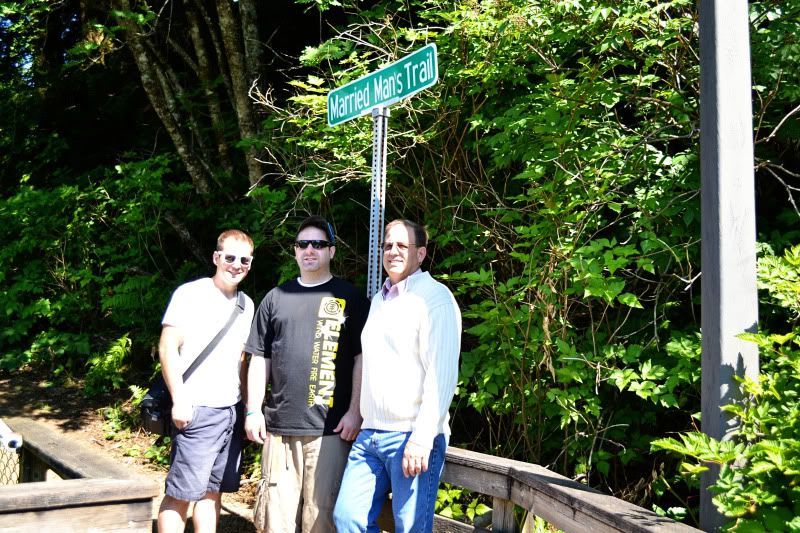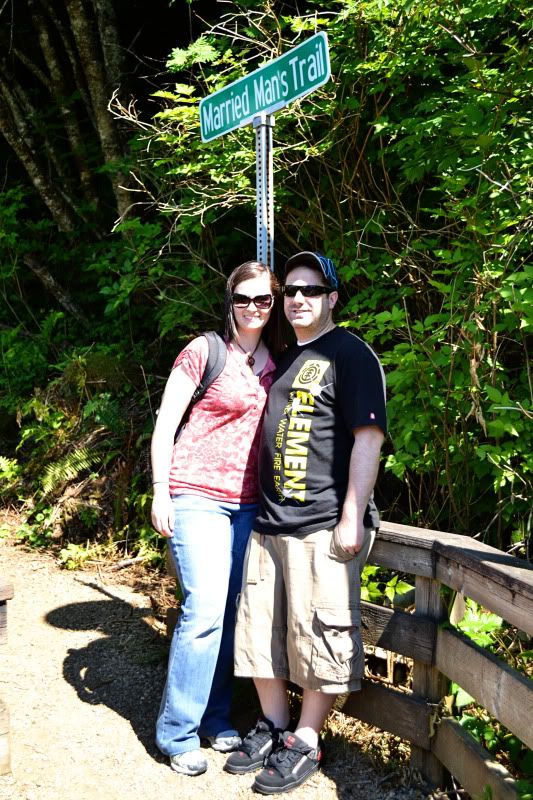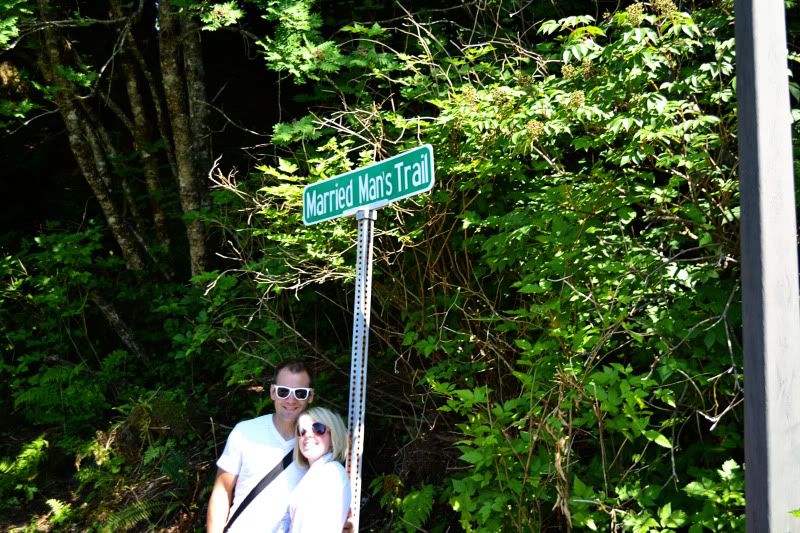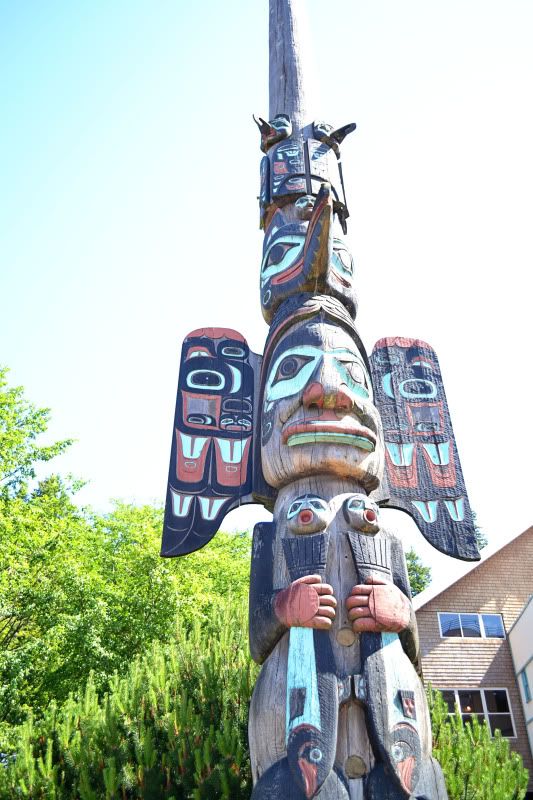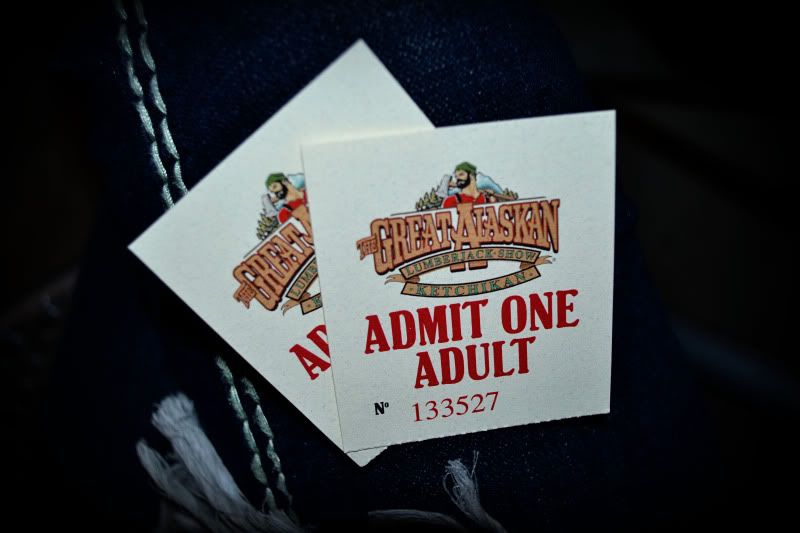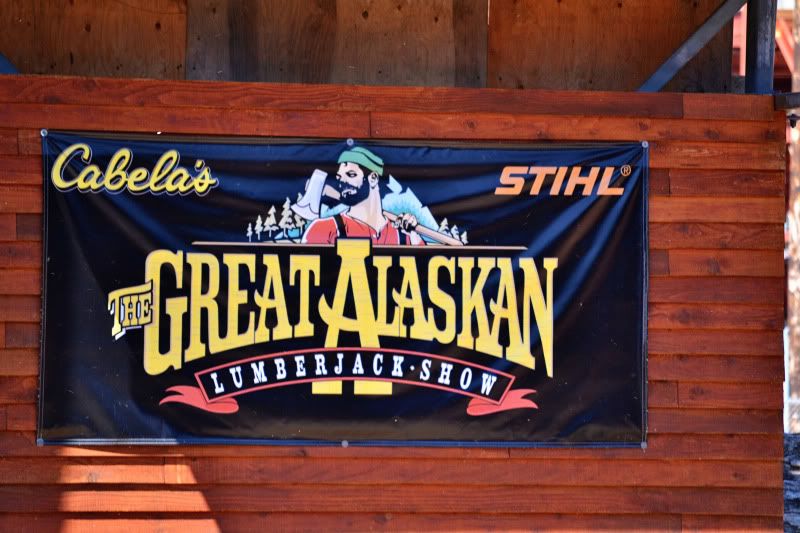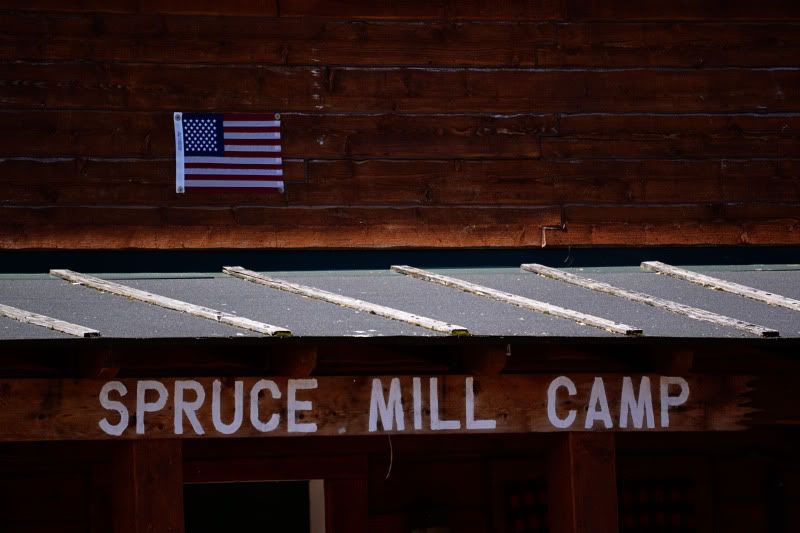 We cheered for this team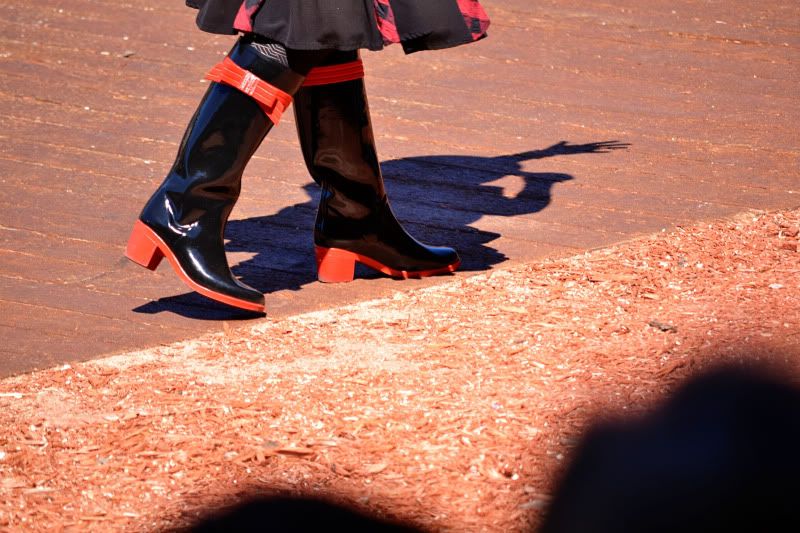 I don't know why but I thought these shoes were so cool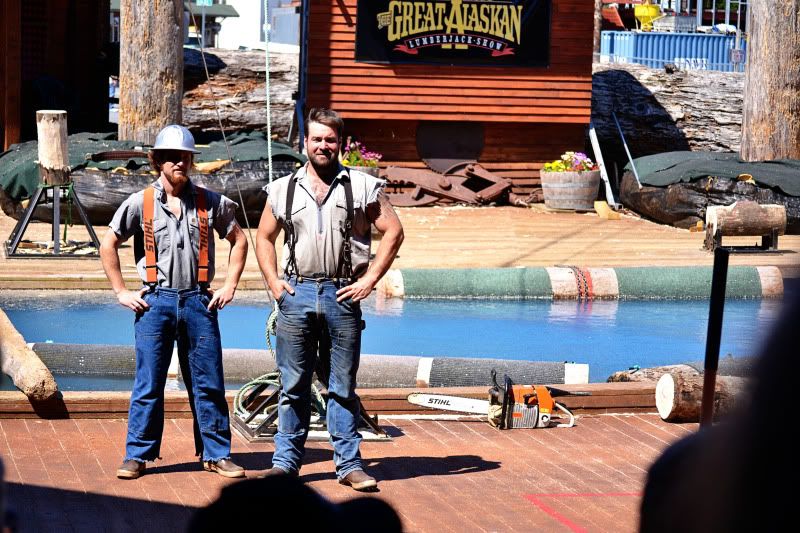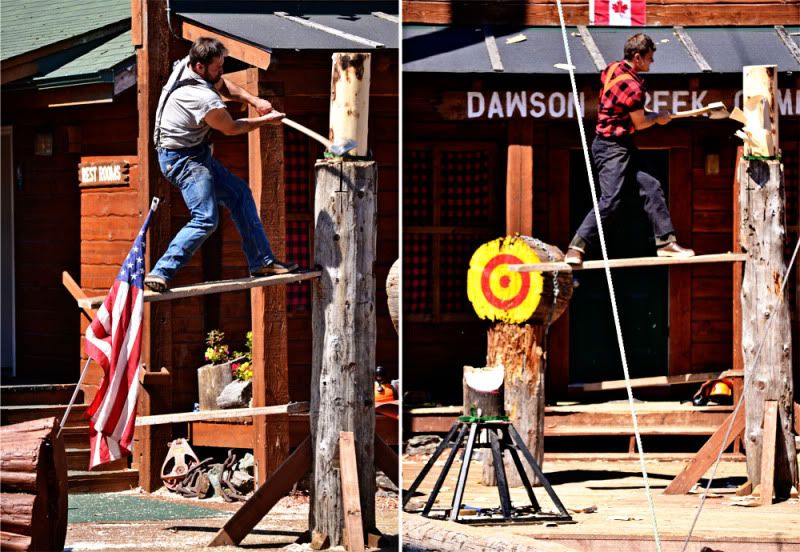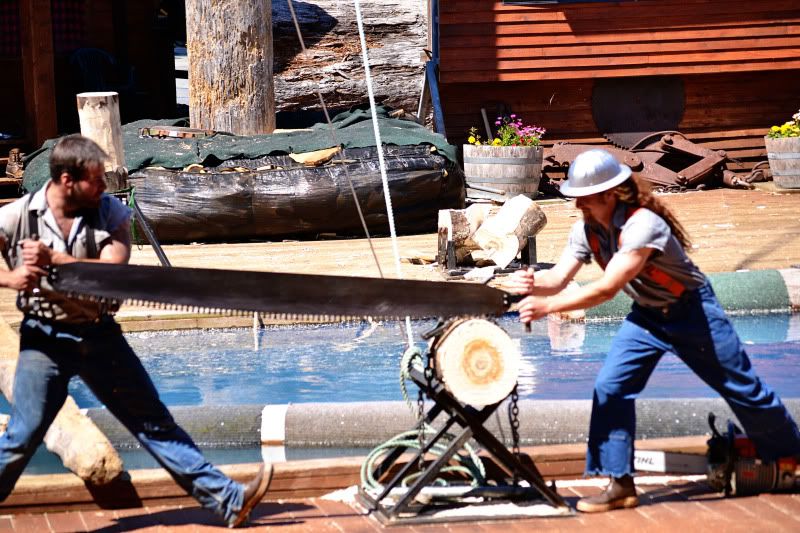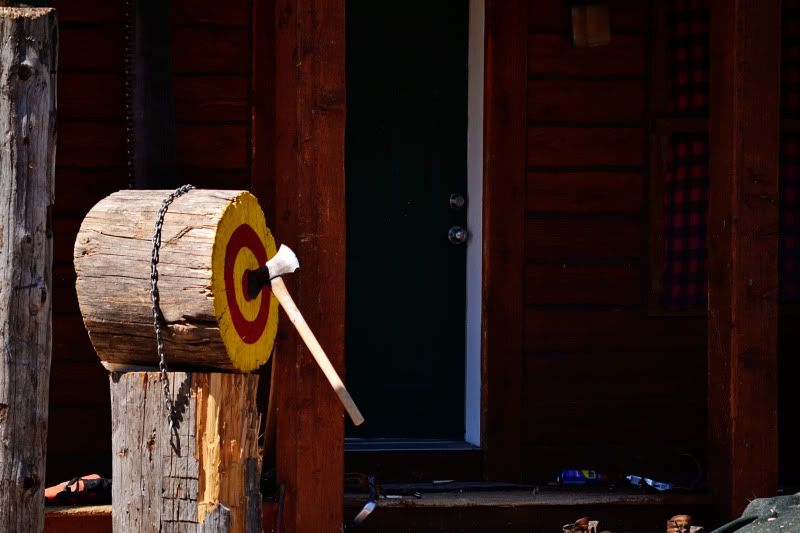 They would throw the axe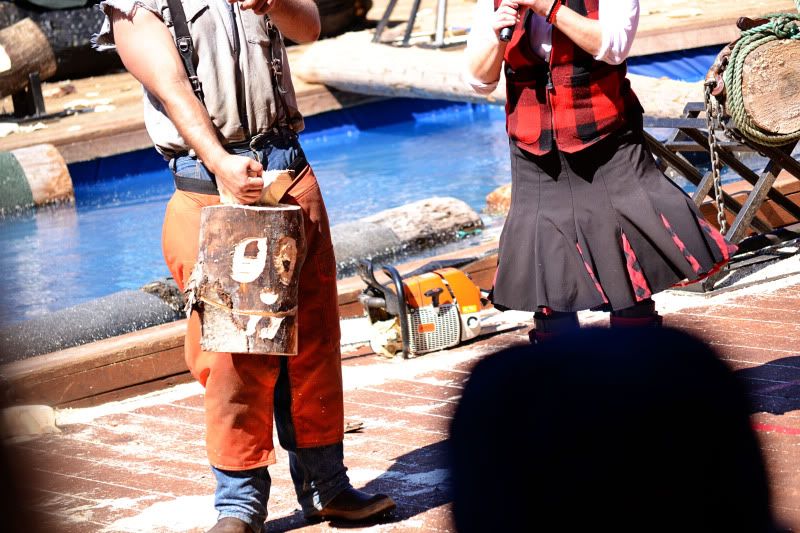 He carved this bunny and turned it into a chair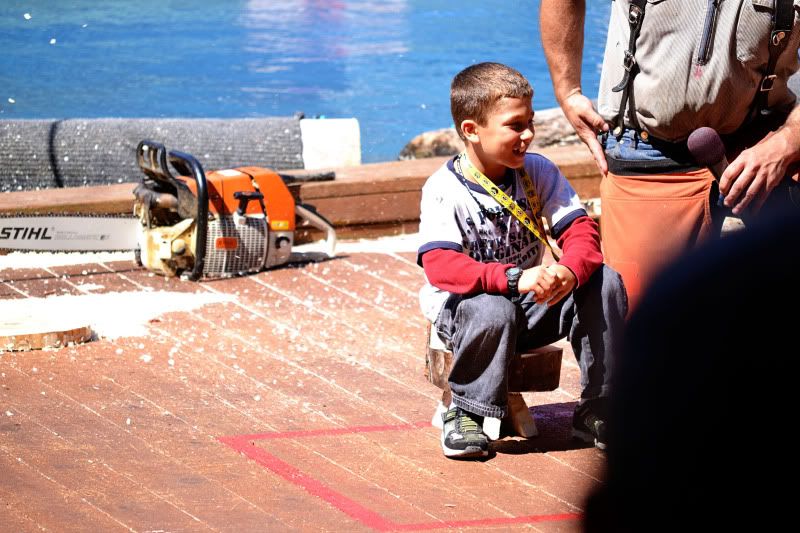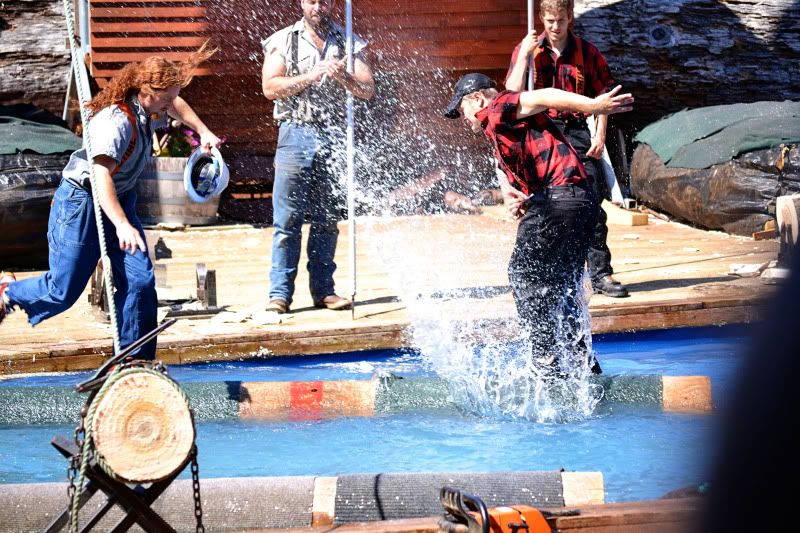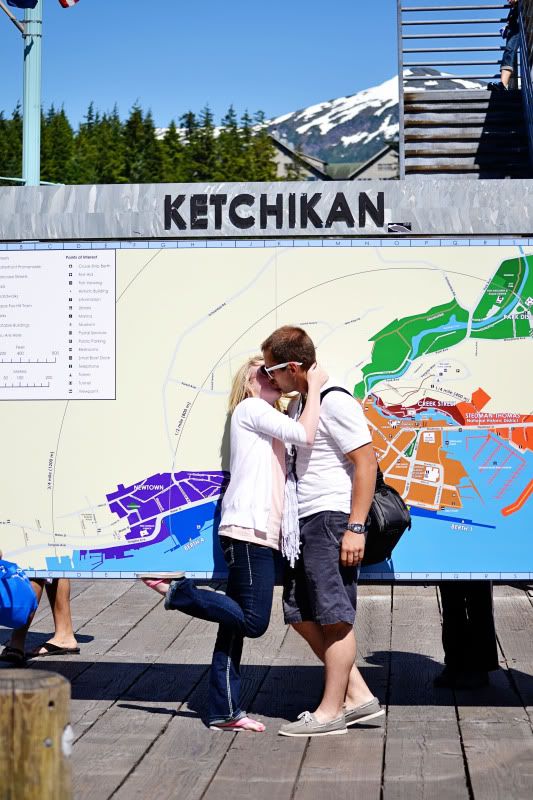 This is what they jumped off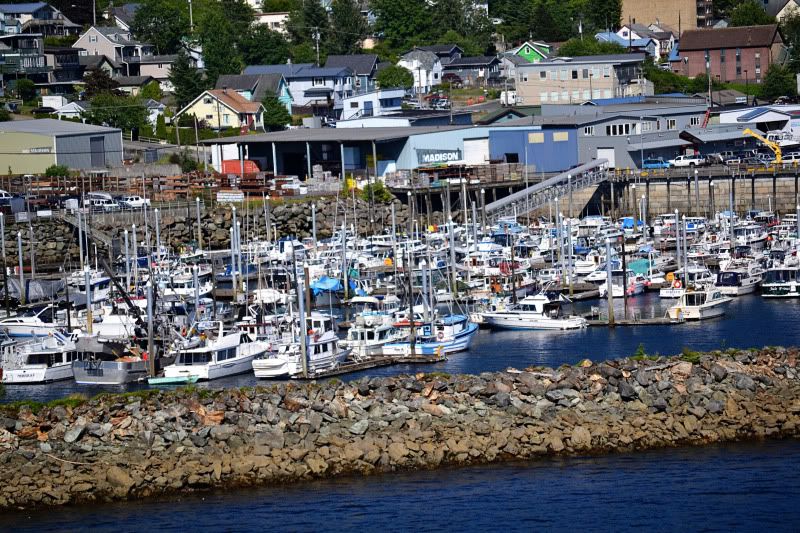 My hip was really tired of standing and walking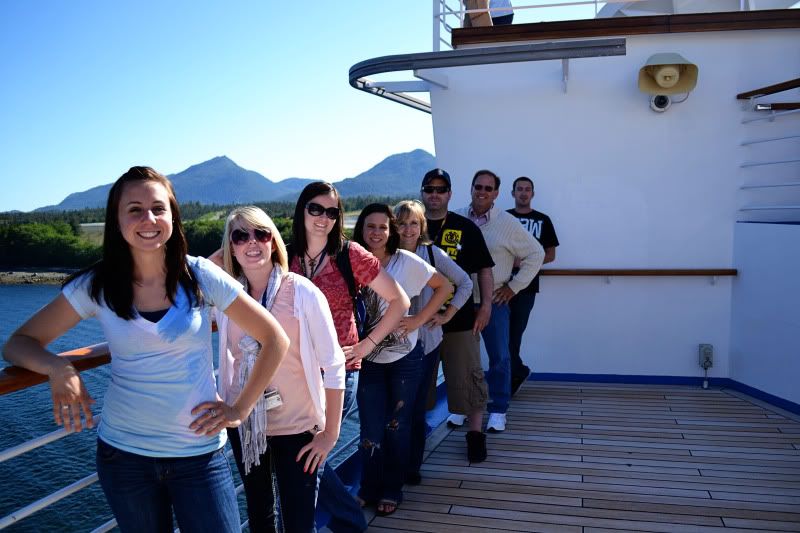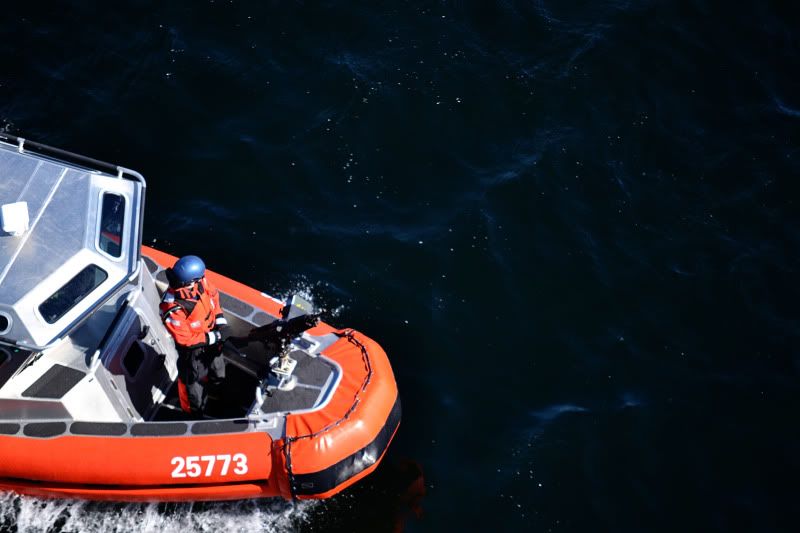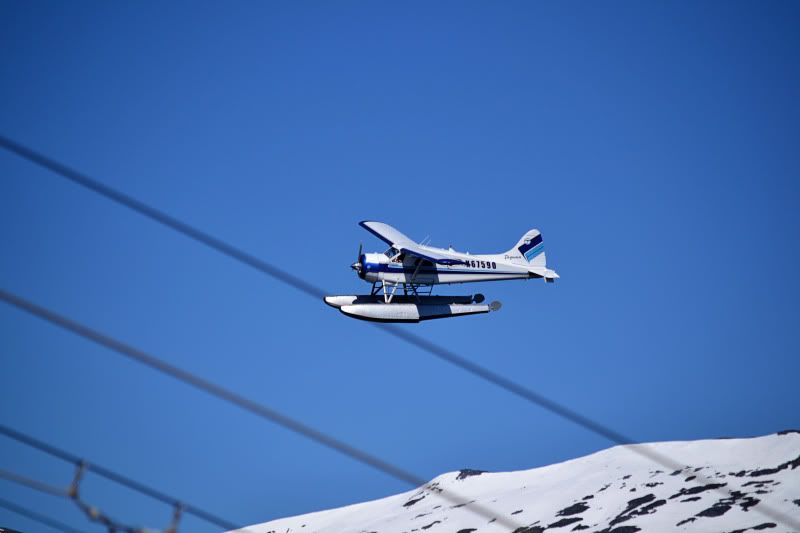 Breks FAVORITE game!
Hand and Foot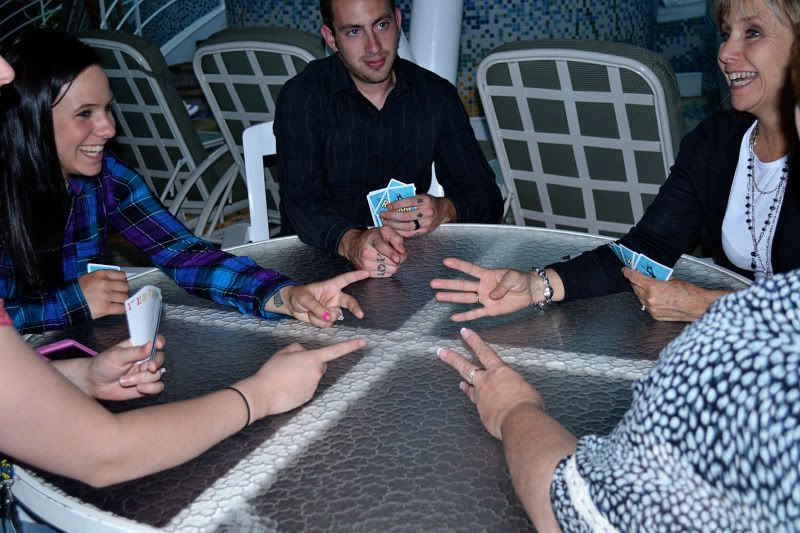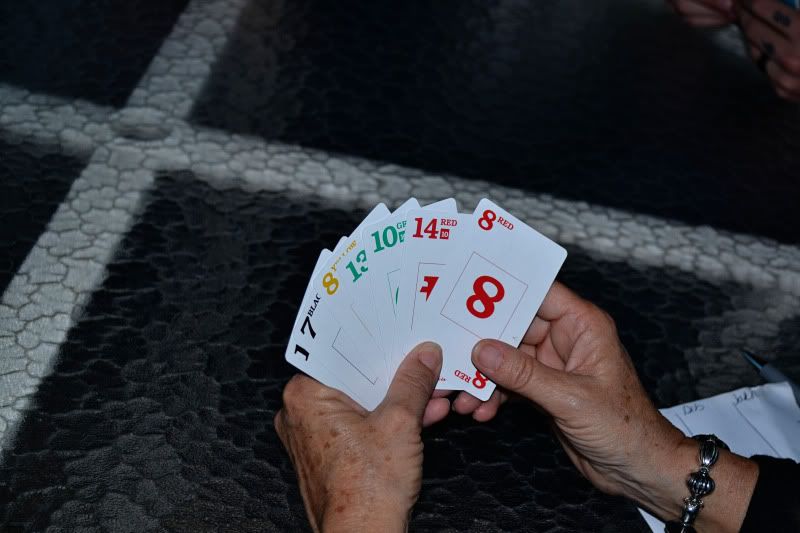 and our version of Rook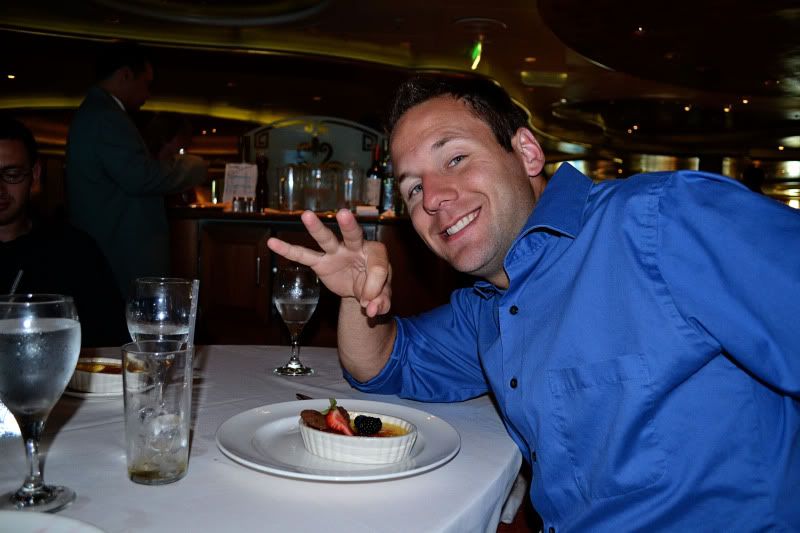 He ordered 3 Creme Brulees at dinner! He was in HEAVEN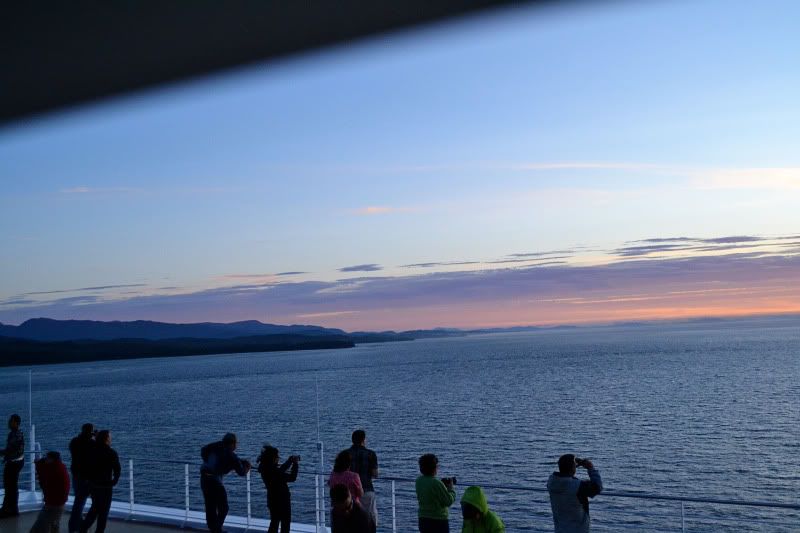 Everyone else thought this was picture worthy too
Day 4: Tracys Arm and Juneau Alaska
-We set our alarm for 6:00 a.m but did not wake up until 7:00 to see the glacier
- It was beautiful and we watched for a while but then went back to our room watched the a movie and slept a little more
-We got into Juneau later that afternoon and we got to watch us dock
-When we got off the ship the line for the bus into town was way long so we thought we would be better off walking.... WRONG it was sooo far and by the time we got there my hip was tired! But we made it into town and Brek bought me hot pink sunglasses and himself some funny socks because the walk killed his poor feet!
-We ran into some of the family and decided to go on a tour of the town and the Mendenhall glacier with them
-The bus was so hot that Grandma called it the cooker bus! This was the 2nd day that it was hot and this was bad news because we all packed for cold weather!
- When we got back we decided to ride the tram up the mountain and see the view from there
- When we got on the ship Brek got sick. He was scaring everyone because he like overdosed on his sea sick patch he had to much in his system so he would blackout every few minutes and almost fall to the ground! He had to get a blessing from Pat and Tim and we called the nurse to make sure it was ok.
- They told him he just needed to sleep it off so that meant it was movie night in our room
Tracys Arm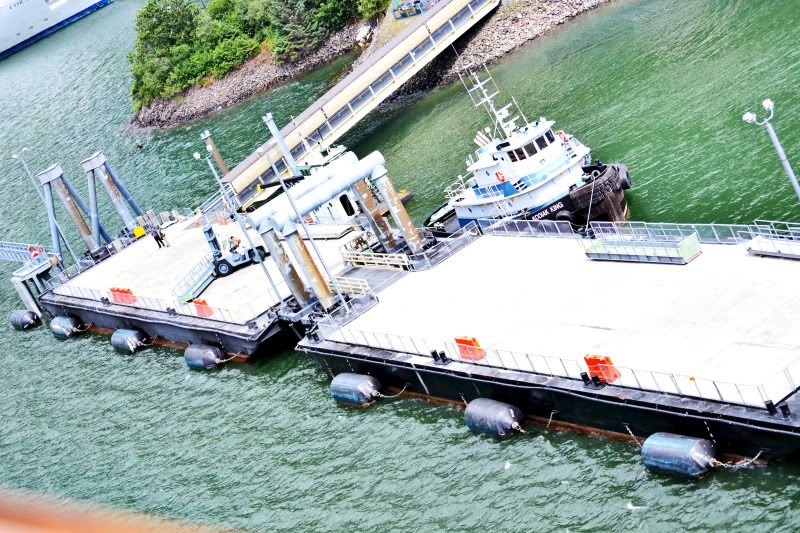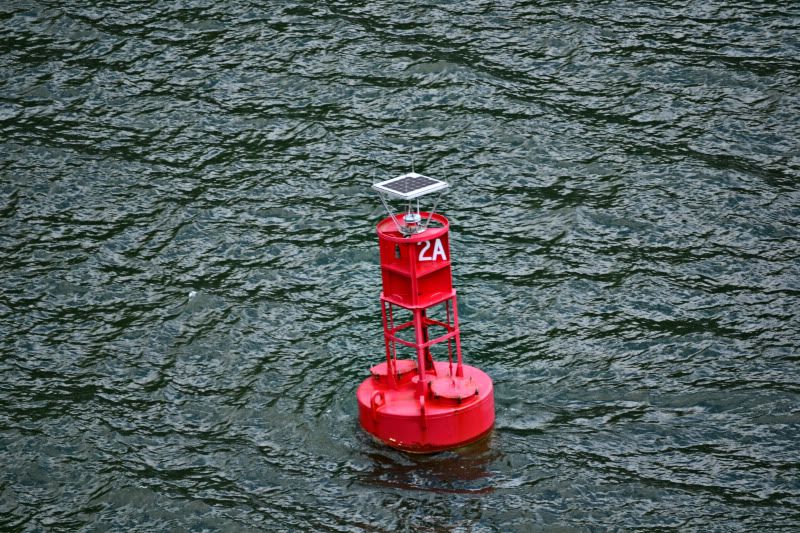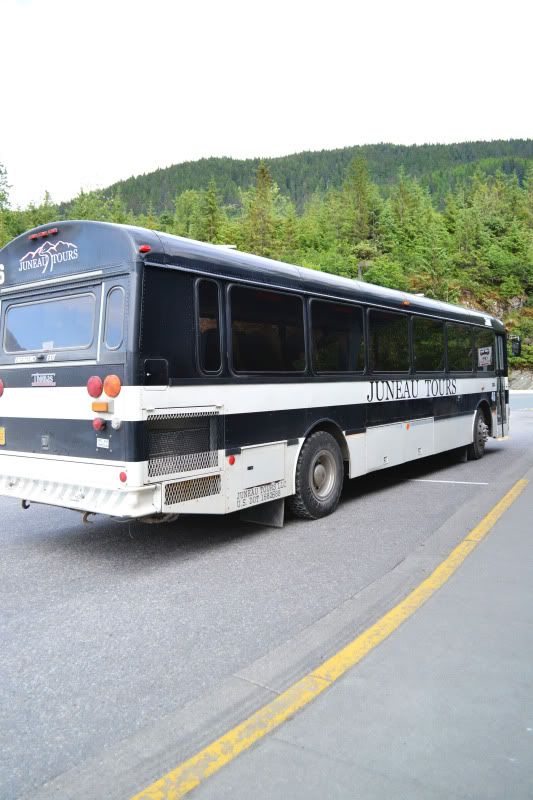 Cooker Bus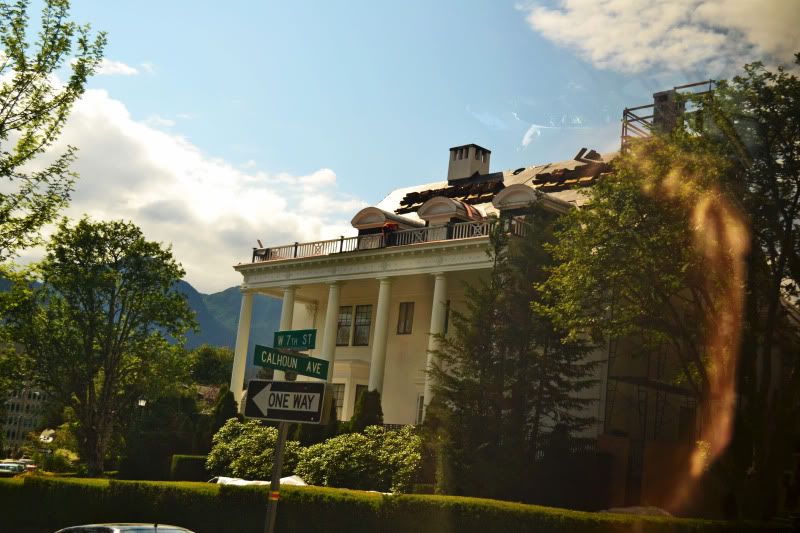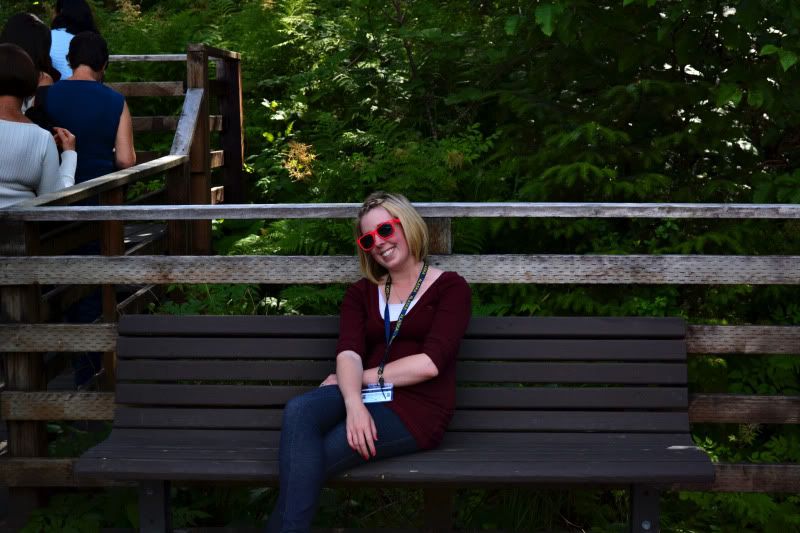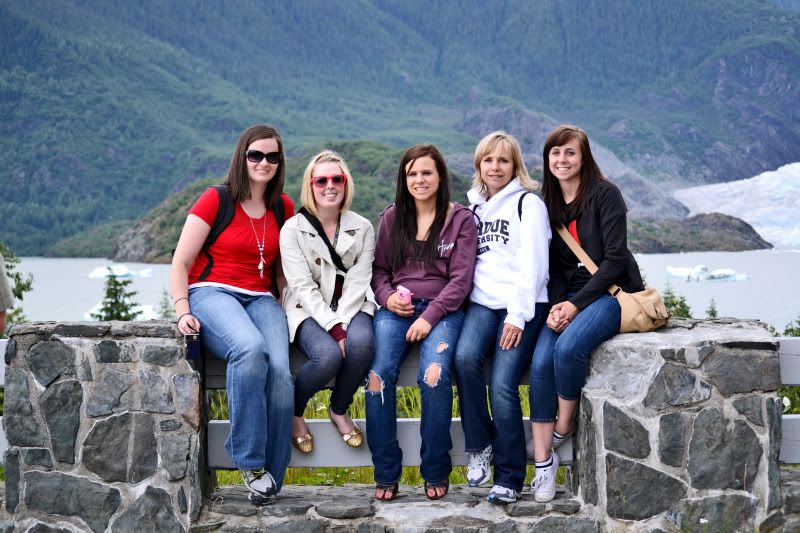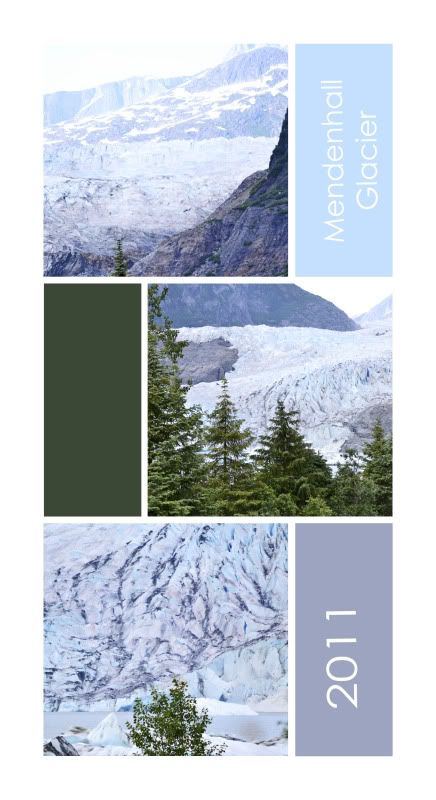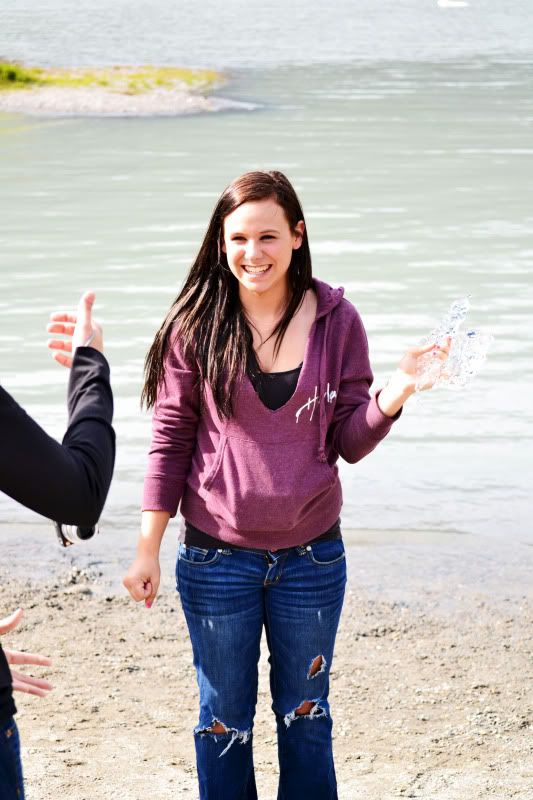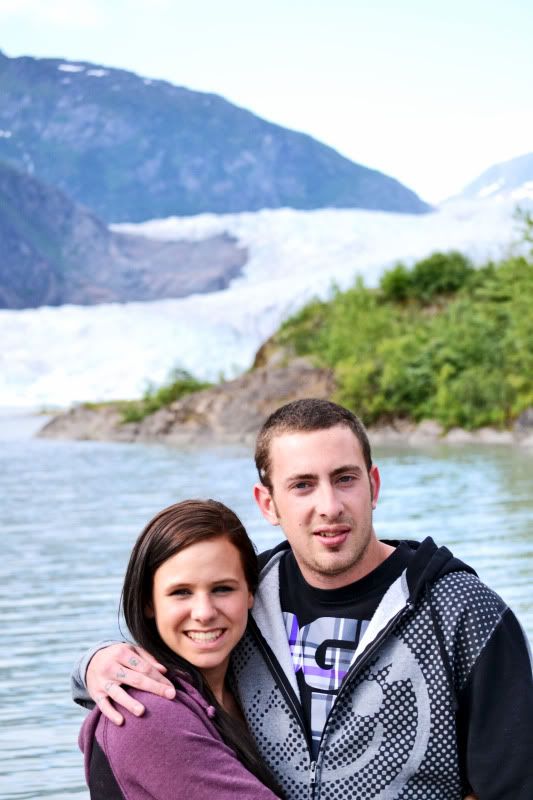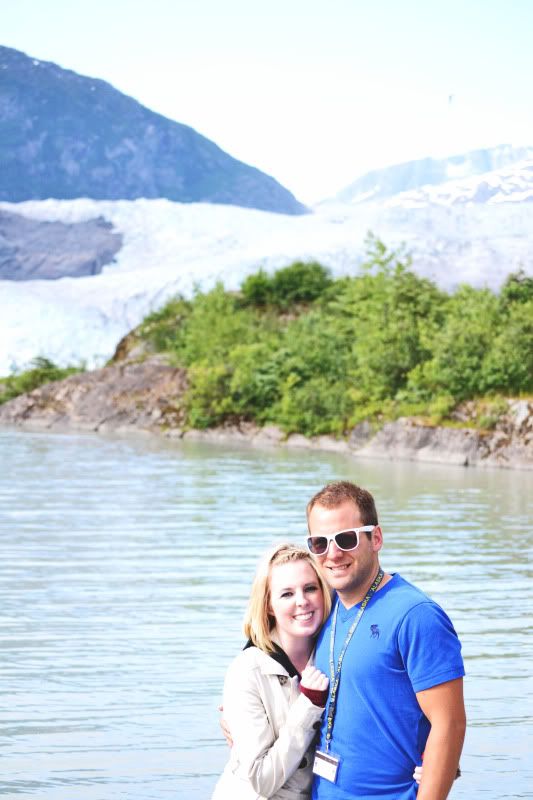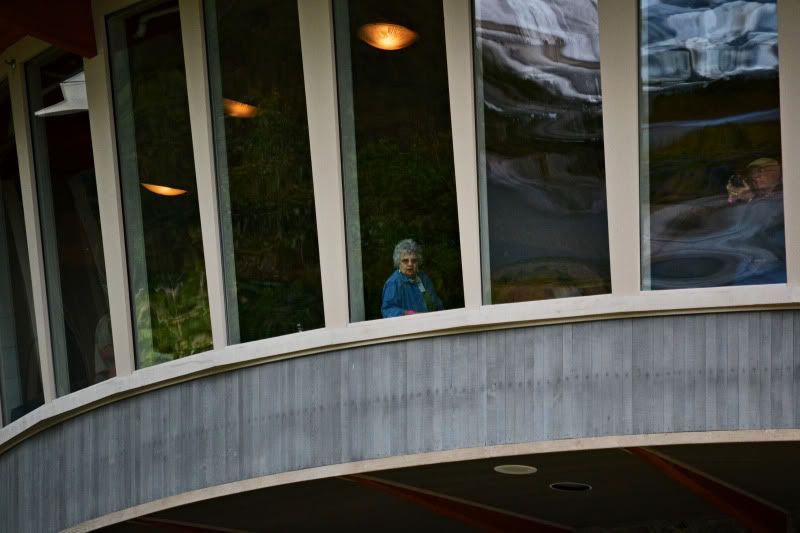 Waiting for us to come back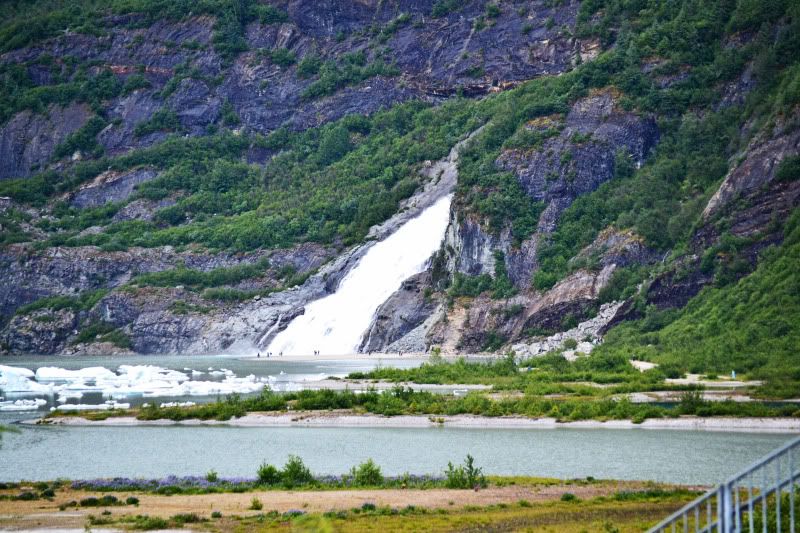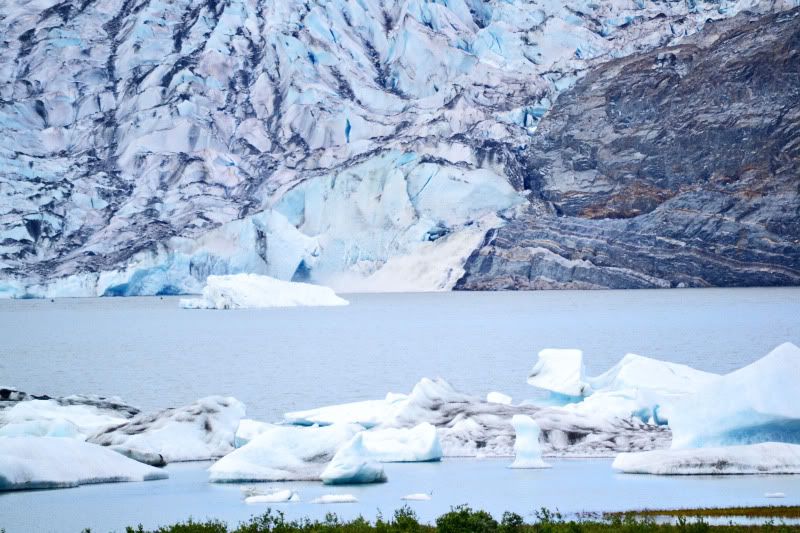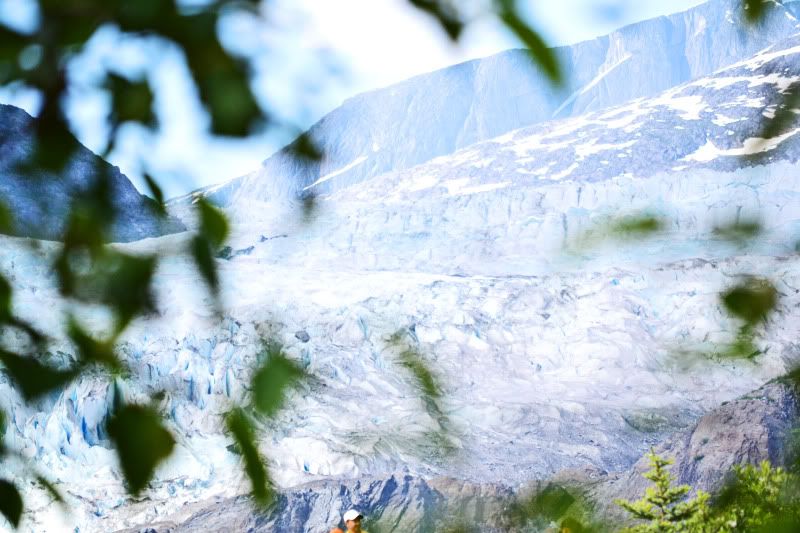 We all thought this was so funny because we ate so much food the whole trip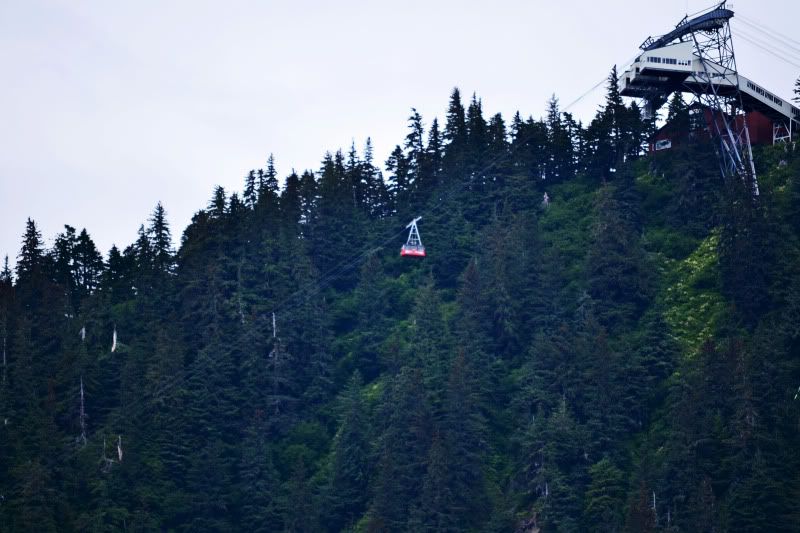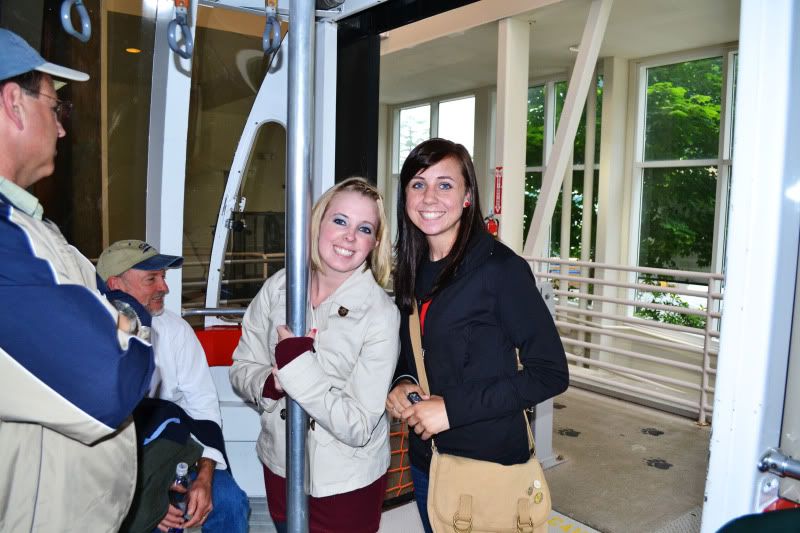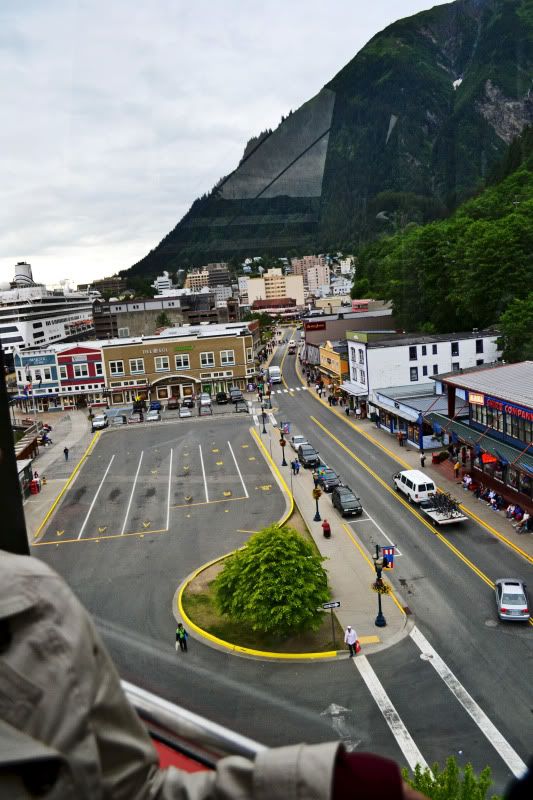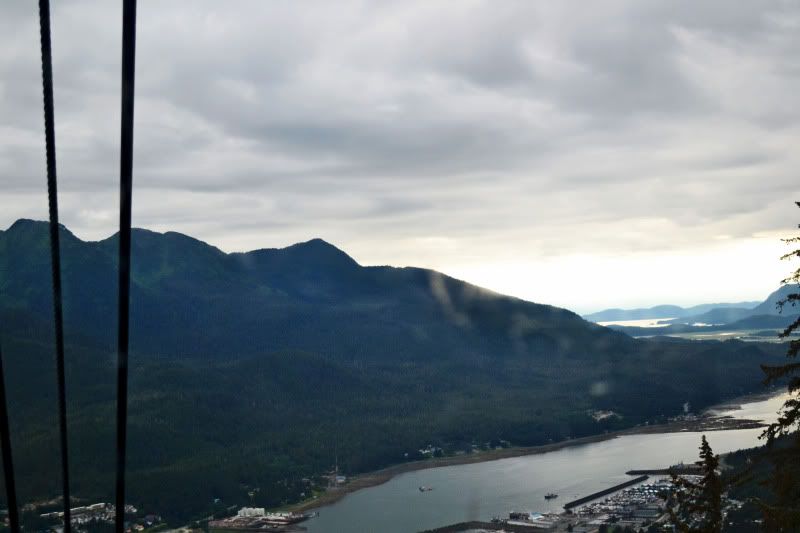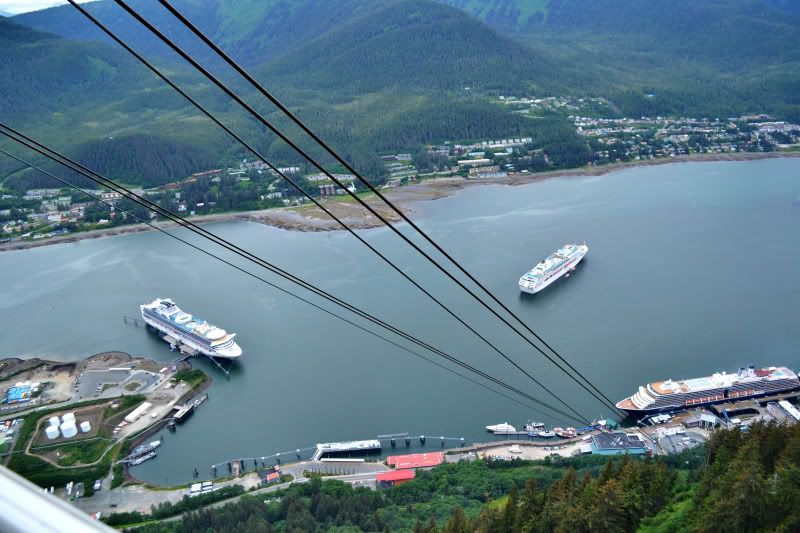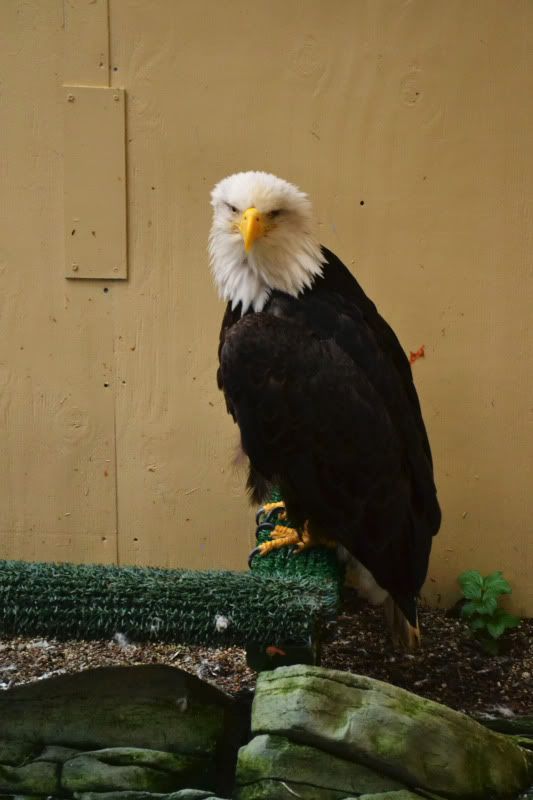 This bald eagle had been shot so they were taking care of it until it could fly again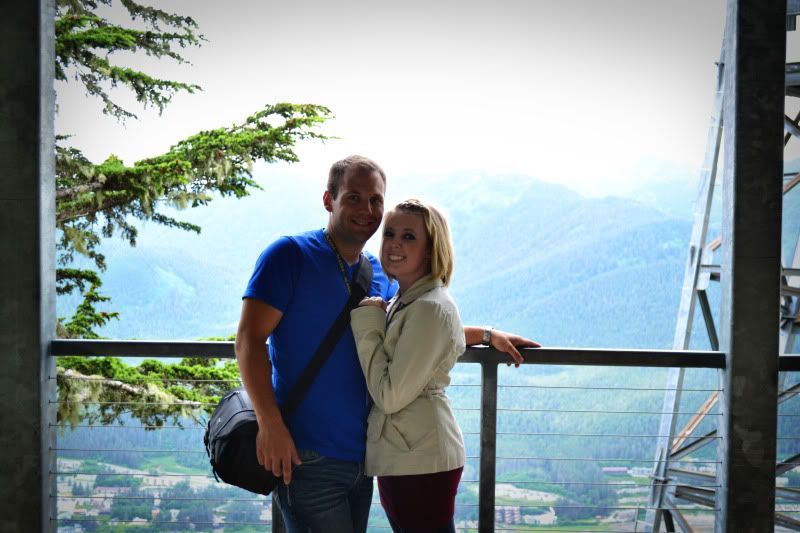 Brek was the photographer all day this day he got some way cool pictures
Day 5: Skagway Alaska
- We were docked that morning in Skagway and it was the first chilly day
-We Walked into town and saw all of the cute shops
- Everything was built like an old town they were even driving people around in horse and buggys
-Brek wanted ice cream for a treat so we found a way cute ice cream shop
-Brek and I rode the bus back to the ship with Grandpa and Grandma
- It was Italian night in the dining room and the waiters were all dressed up like Italians
-Then we went to a comedian/magic show
-And played games until way late at night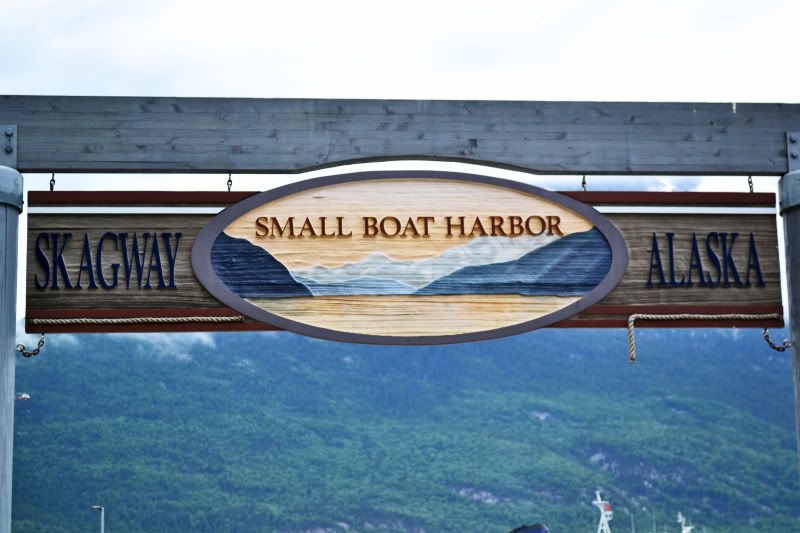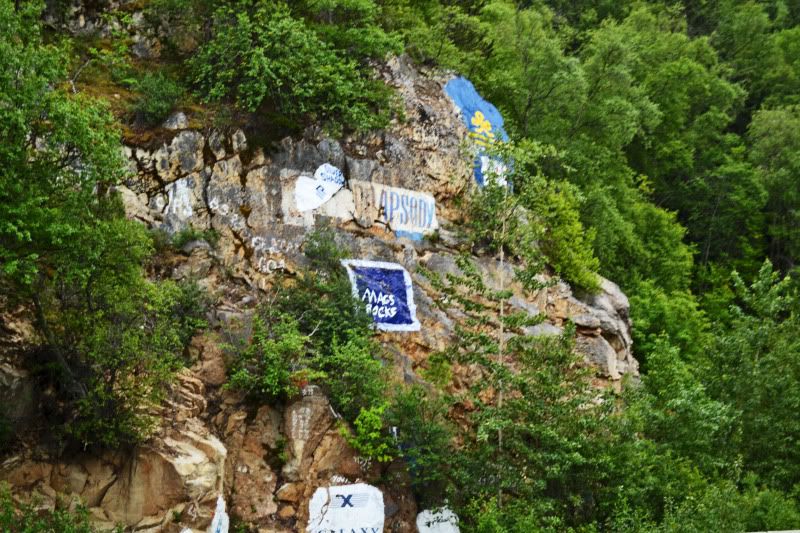 all the cruise lines are painted on this mountian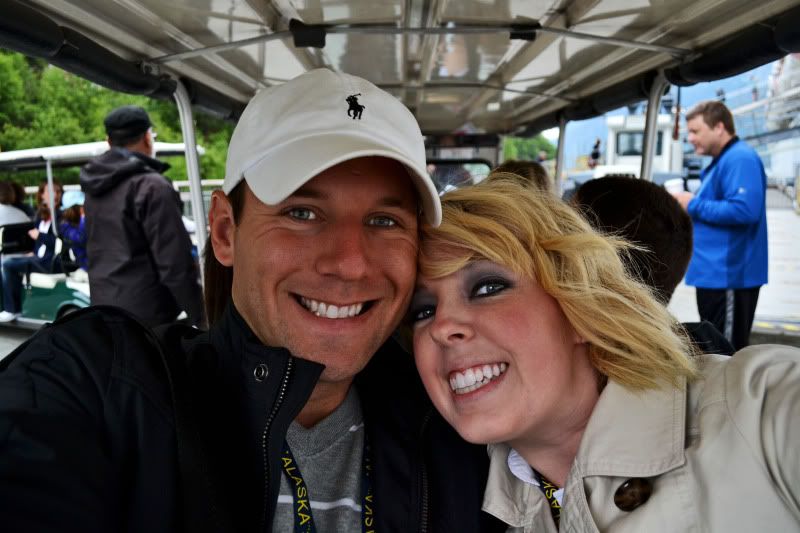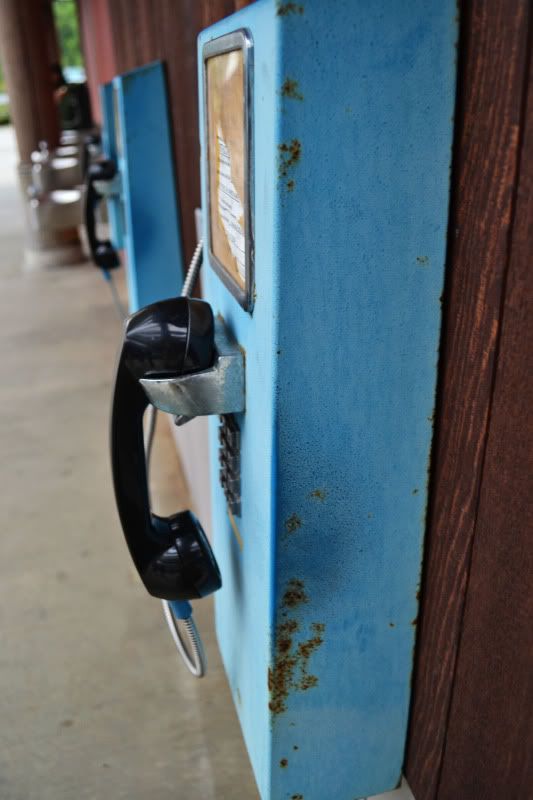 these phones were everywhere in Alaska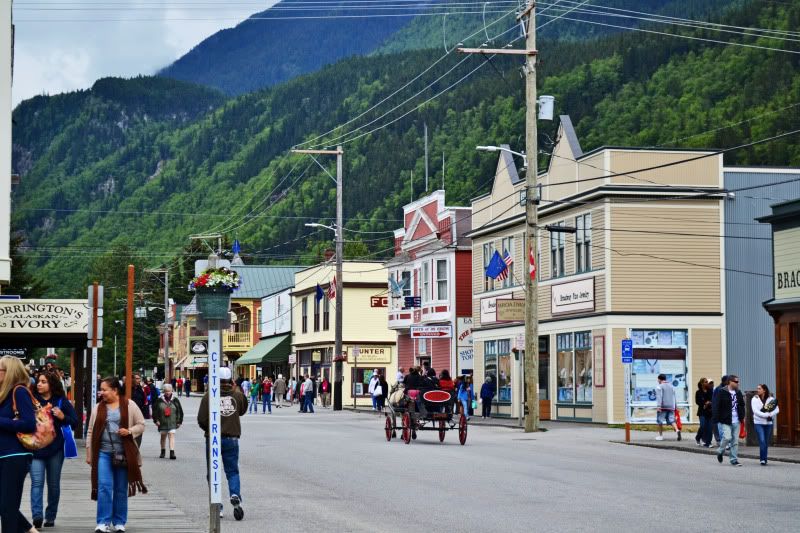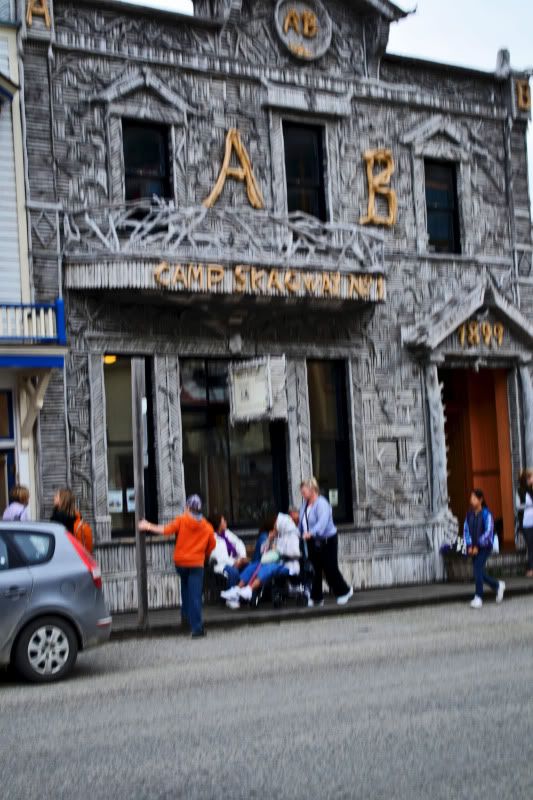 We called this my store we never actually went in but it said AB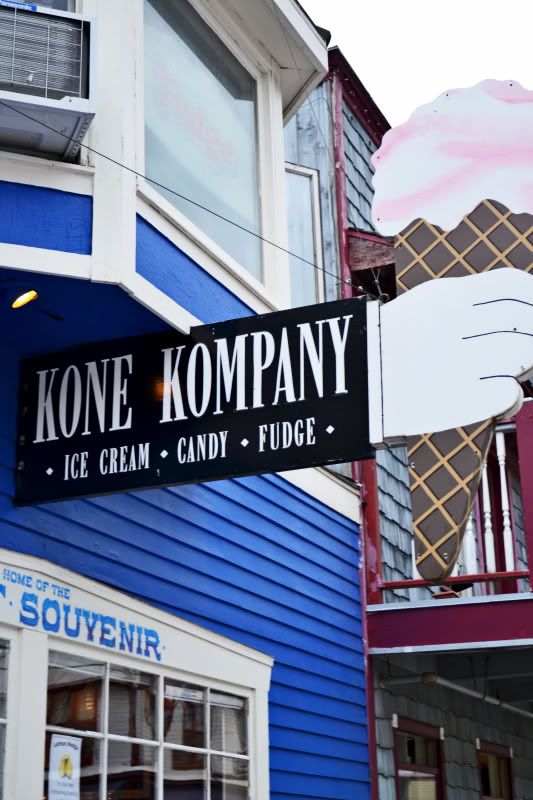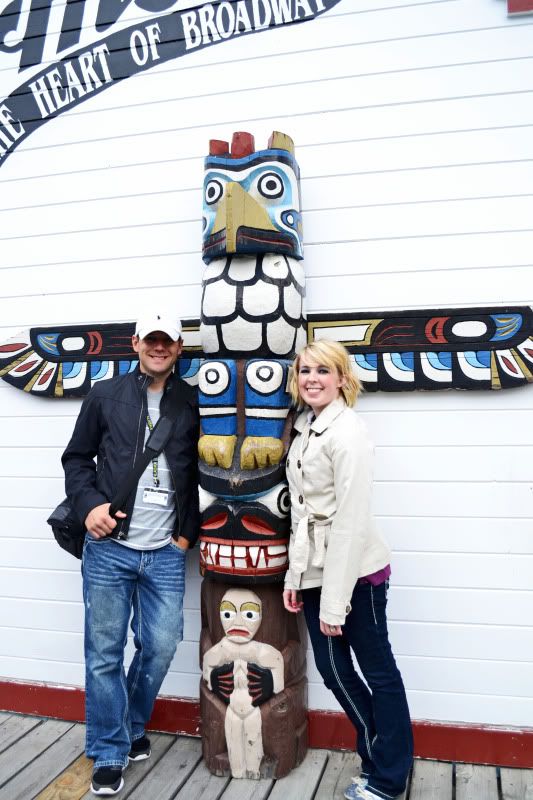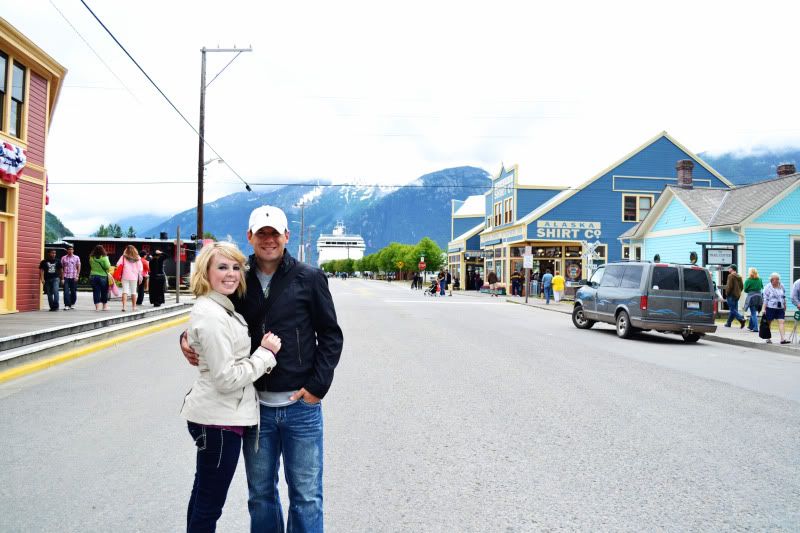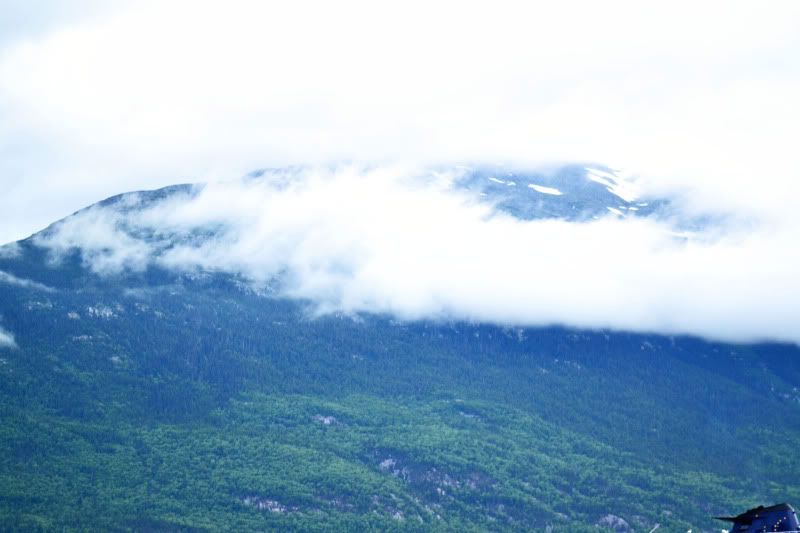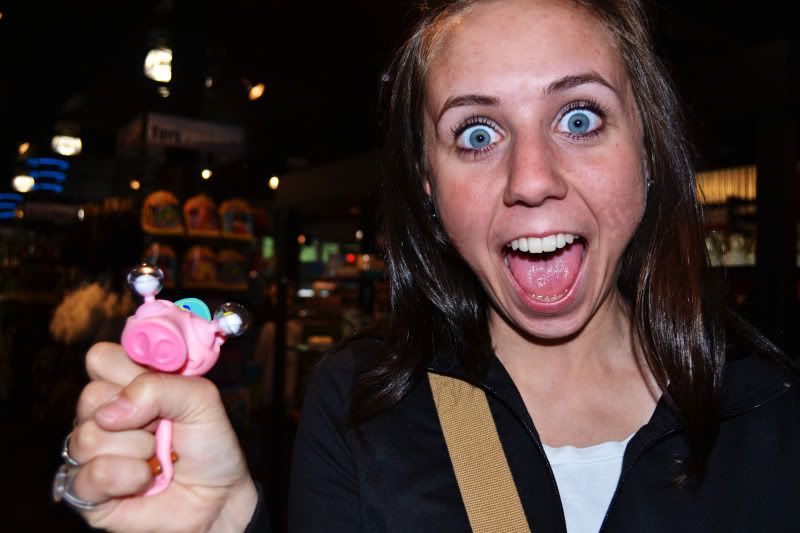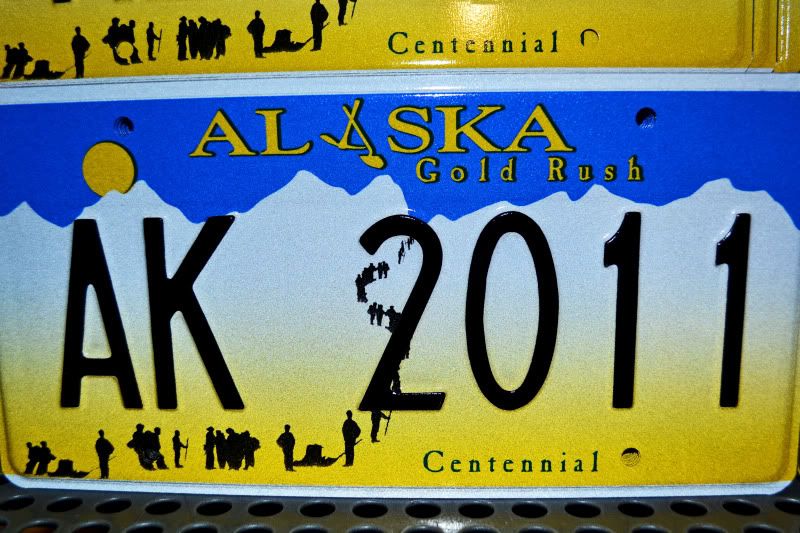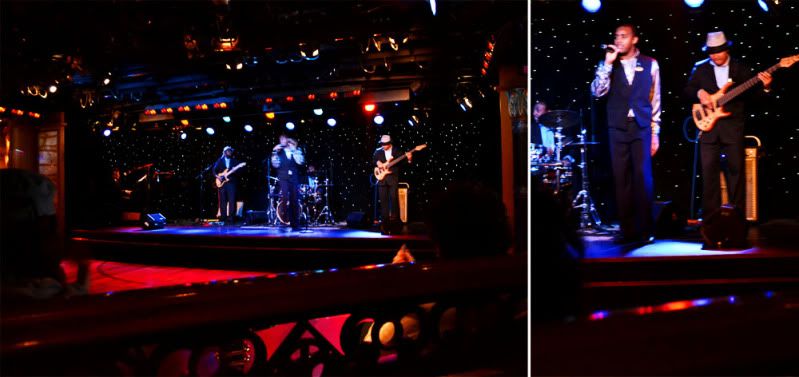 I thought this singer looked just like Wayne Brady
He wanted Chelsea to sing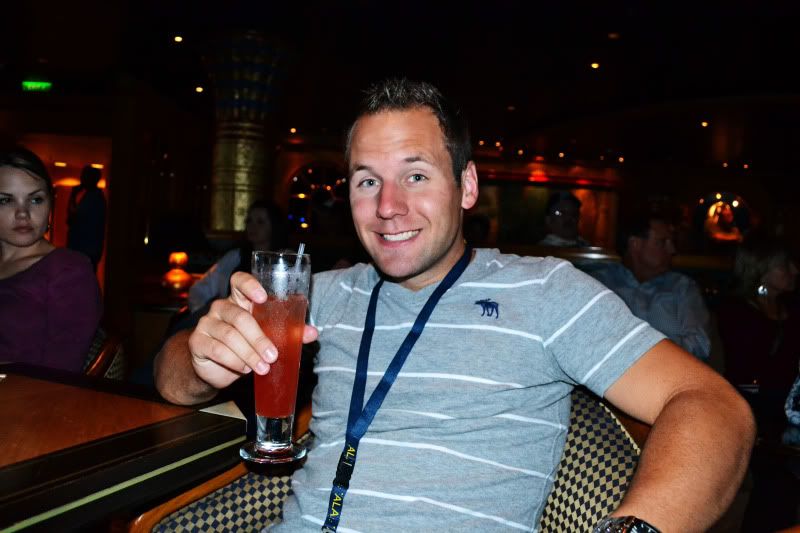 Day 6: Day at Sea
- We pretty much slept this whole day!
- The ship was rocking back and forth a lot so everyone was a little sick
- We all slept and got up for meals
- It was another dressy dinner so we got all dressed up and headed to the dining room
- We had baked Alaska that night for desert and they did a big parade with all the waiters and cooks
- We got in the hot tub again that night for one last time
- Went to the buffet at midnight and went right back to bed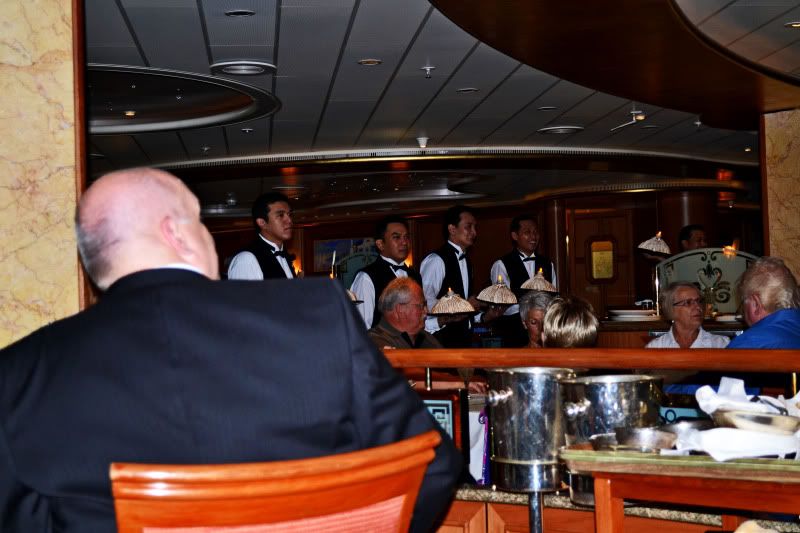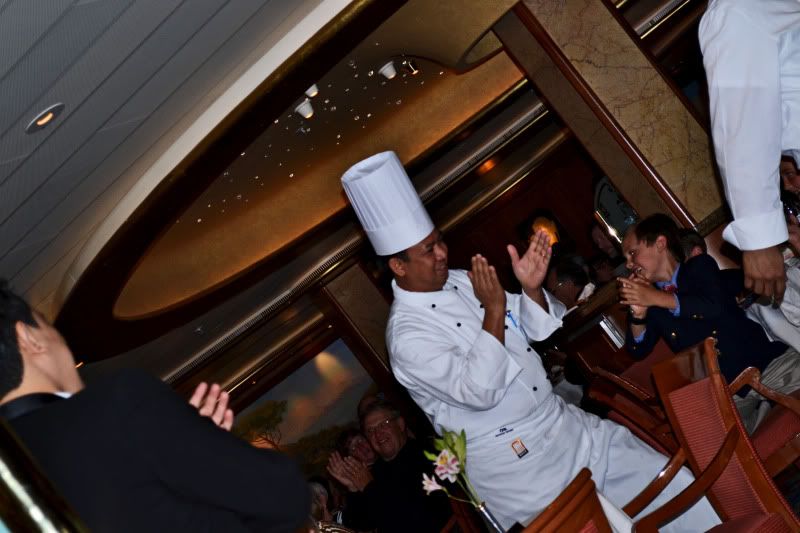 Our waiter Rolando was always doing magic tricks for us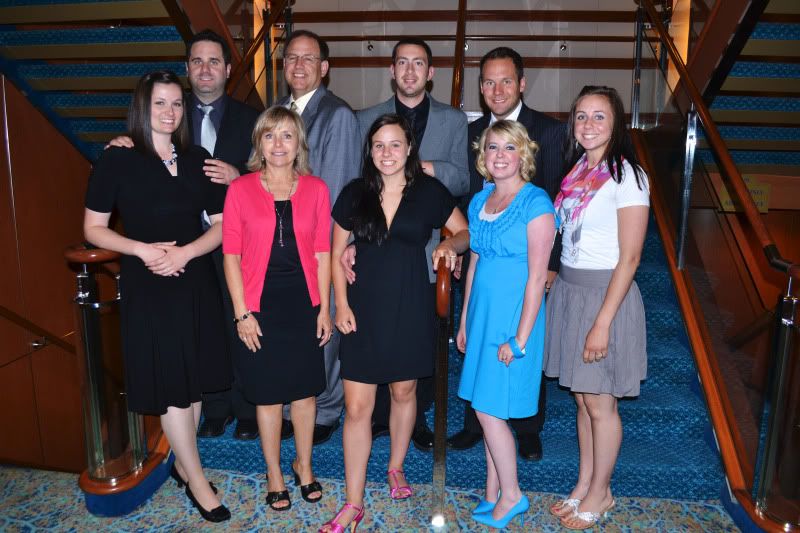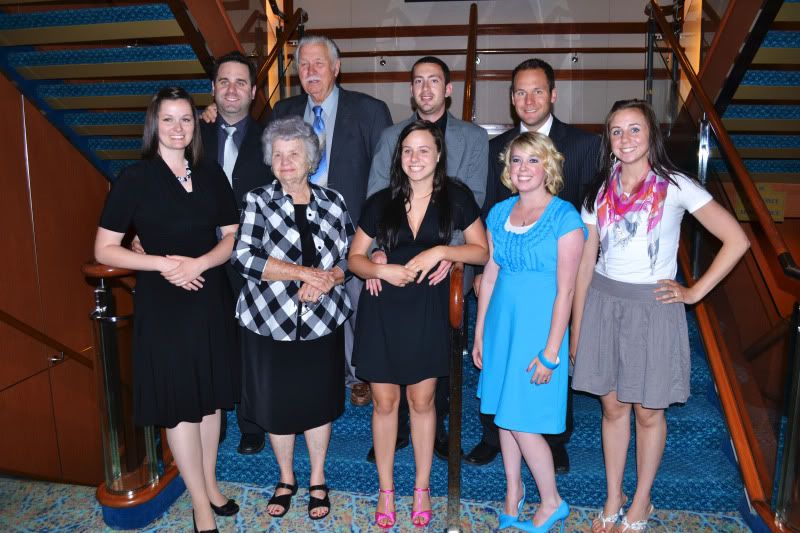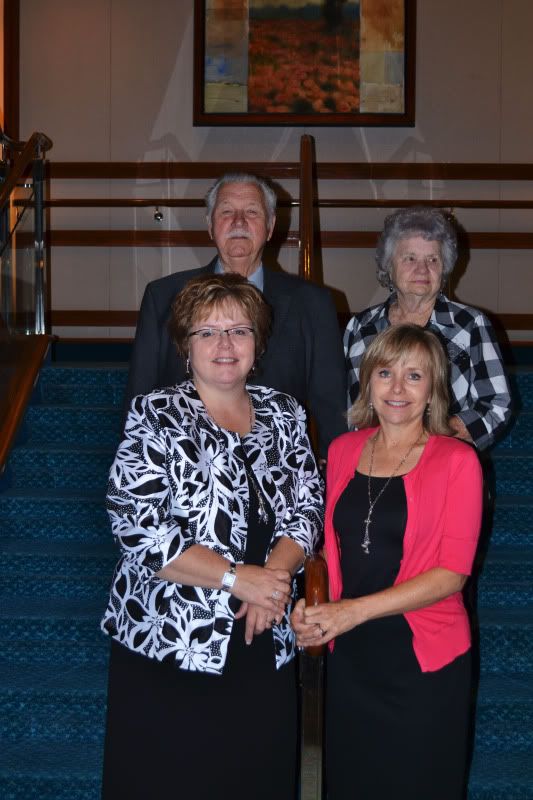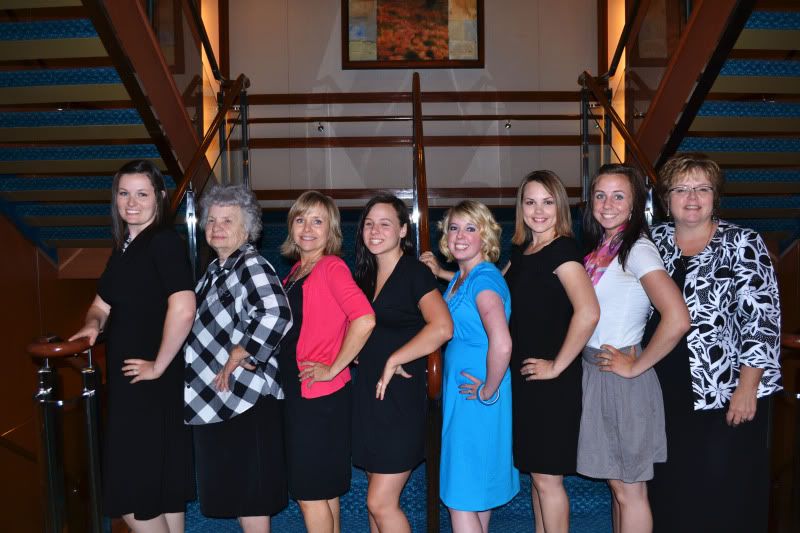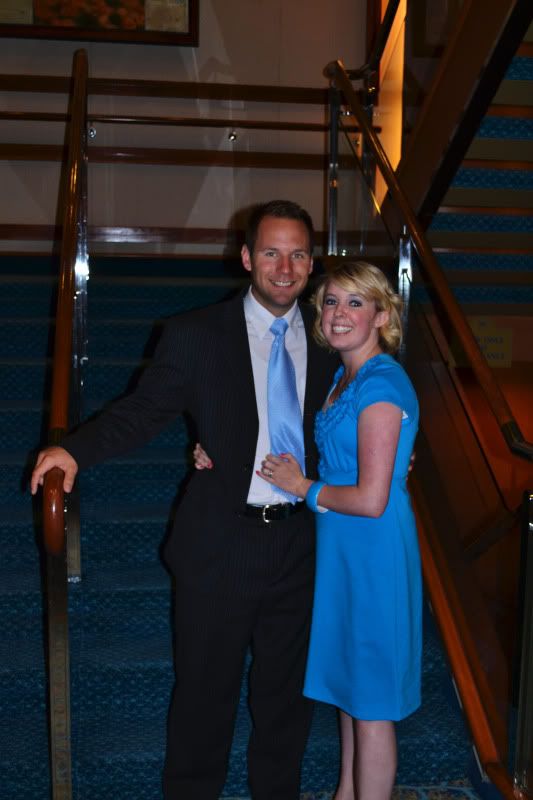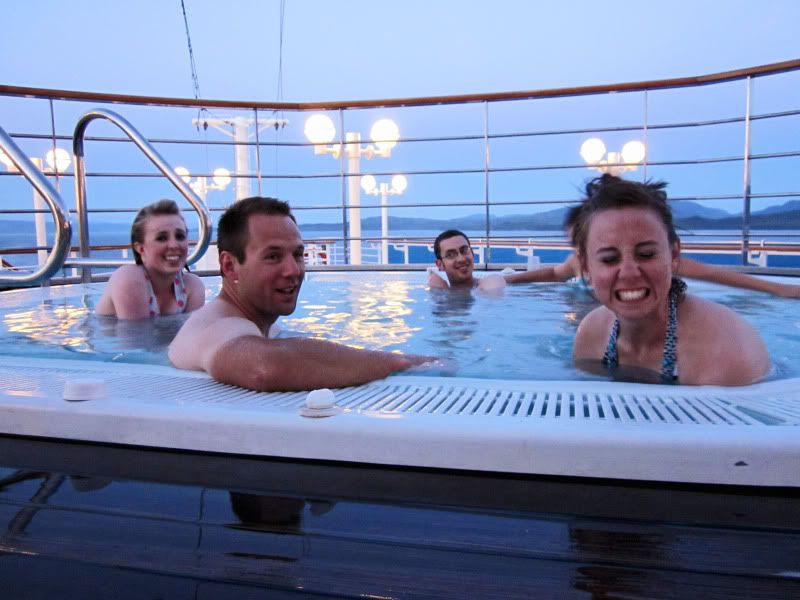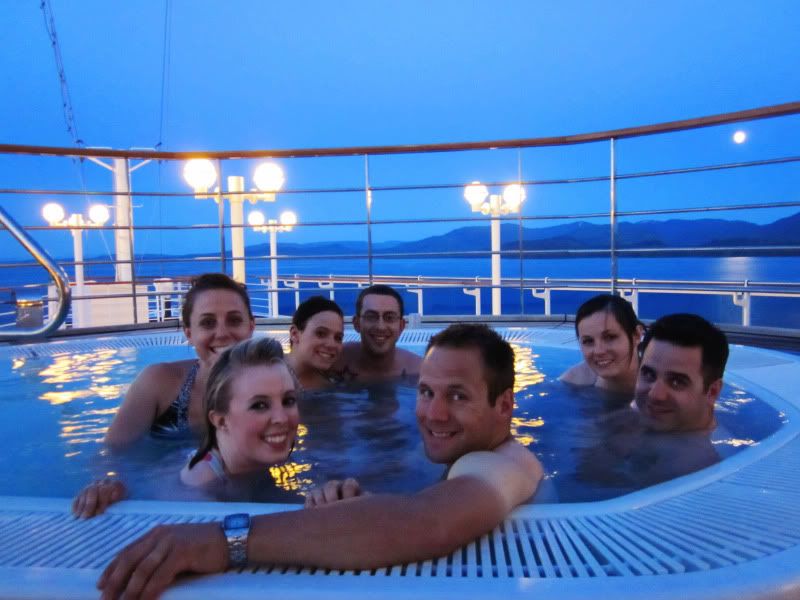 Brek forgot to take off his white t-shirt to swim... haha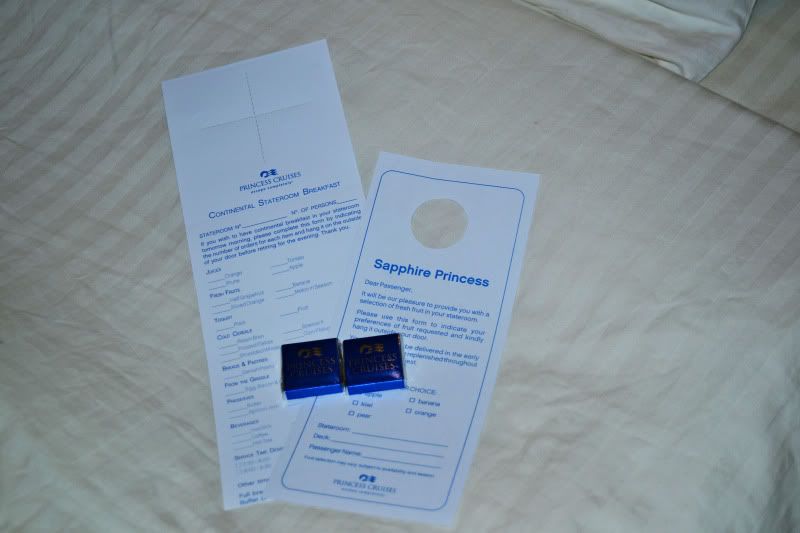 These mint chocolates were left for us every night
Day 7: Victoria Canada
- We spent most of the day at sea and pulled into Victoria around 7:00 p.m
- They raised dinner time to a little earlier so we could eat at American night before we got off the ship
- We took pictures with Rolando and Junnell our waiters and Dario our house keeper
- It was kind of exciting being in a different country!
- We walked around the city and it is BEAUTIFUL and I am sad we didn't get more time there
- There was street performers including a lady painted like tin and she froze like a statue until you put money in her cup then she would dance, and trapeze artists that were CRAZY!
-The buildings were beautiful and pretty plants everywhere
-My hip couldn't walk all the way back and Chelsea wasn't feeling to great so Me, Brek, and Chelsea took a cab back to the boat. It was the best decision ever! He was an Iranian that was so nice and gave us a tour on the way back!
- We all got back on the boat talked for a while ate one last time at the buffet and then went to pack up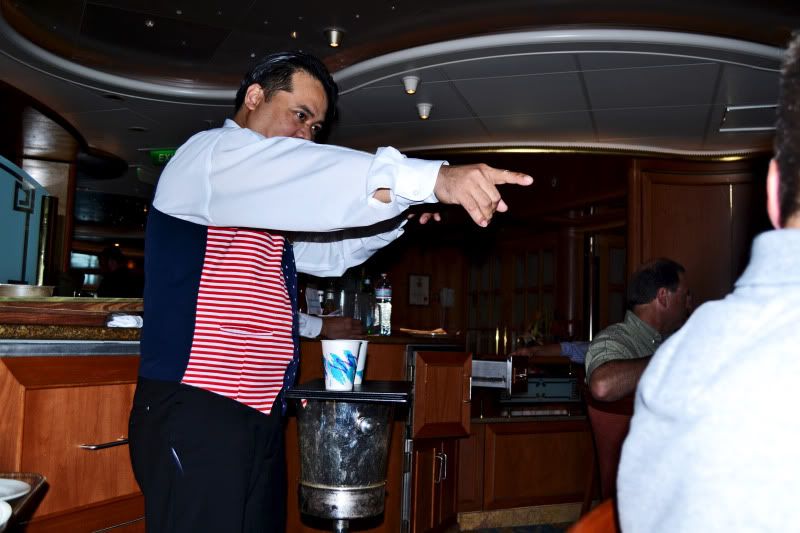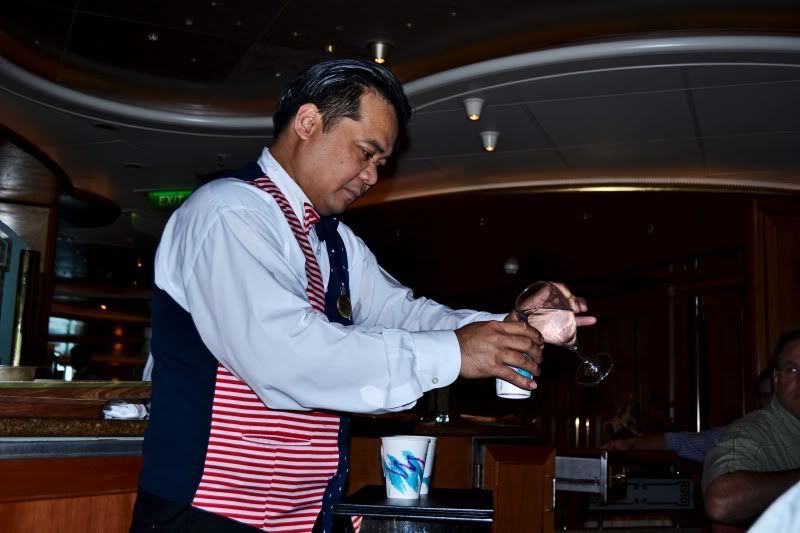 Doing one last magic trick for us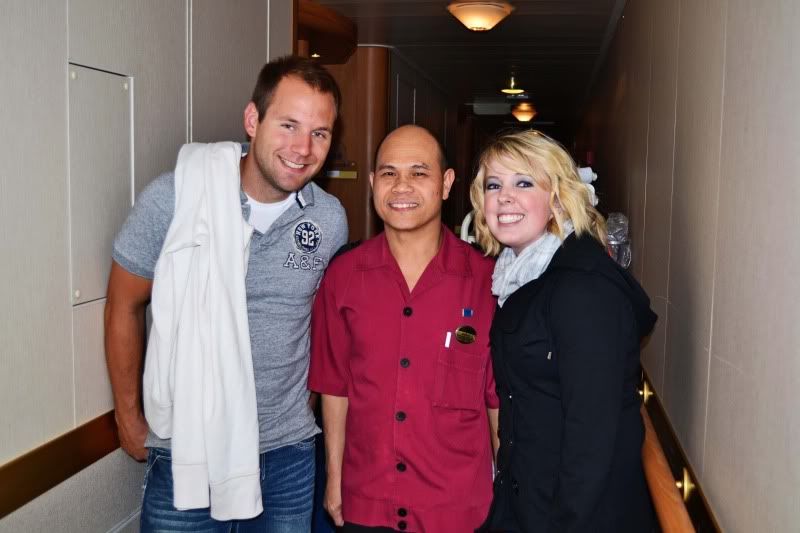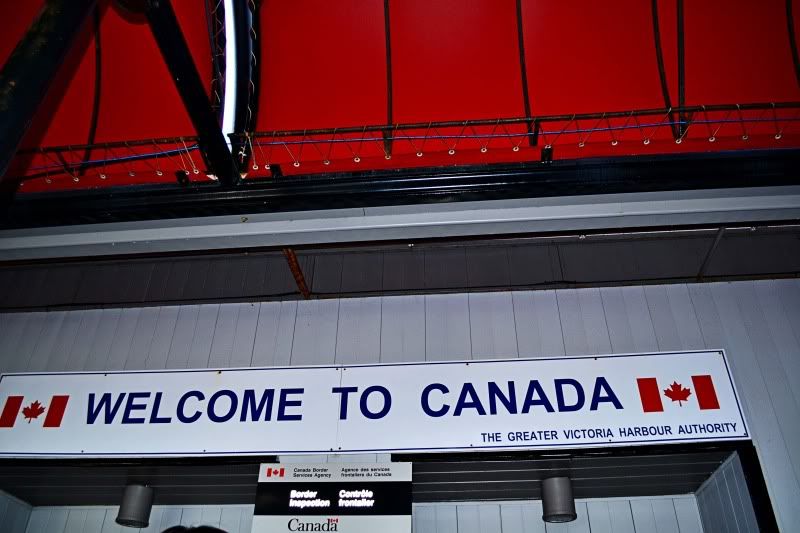 First time our feet were not in America
Bruce, Lori, Grandpa and Grandma took this buggy for a tour of the city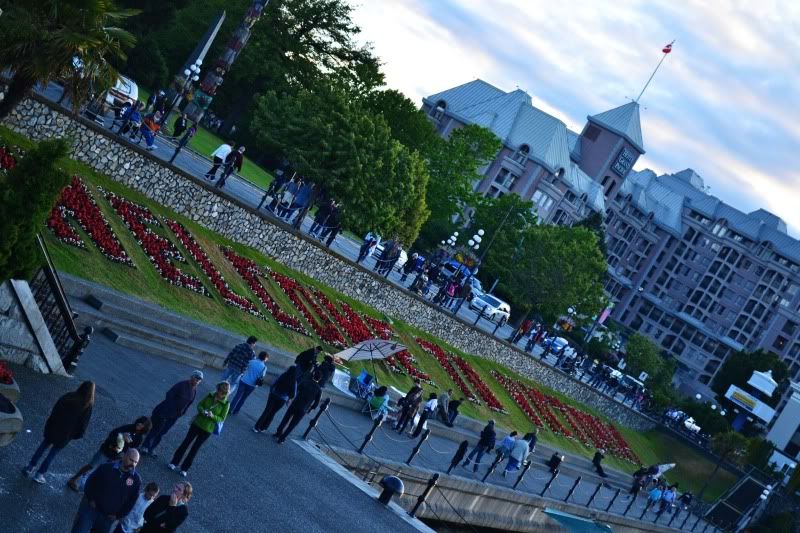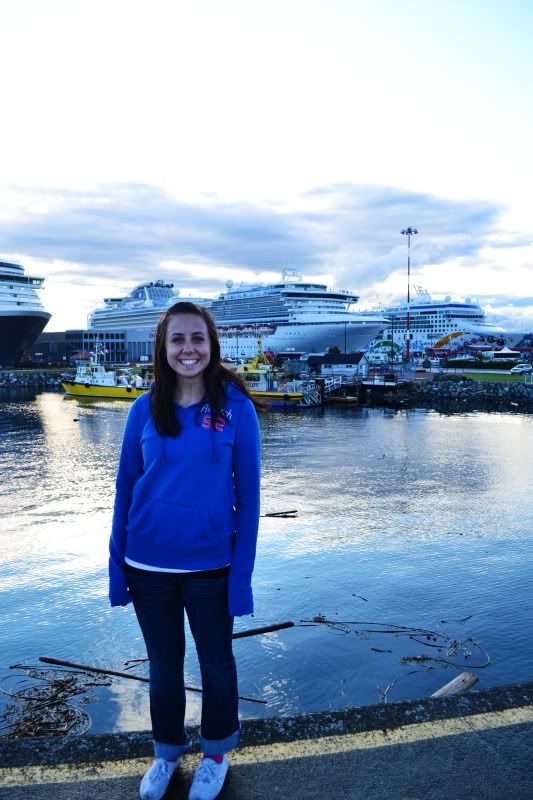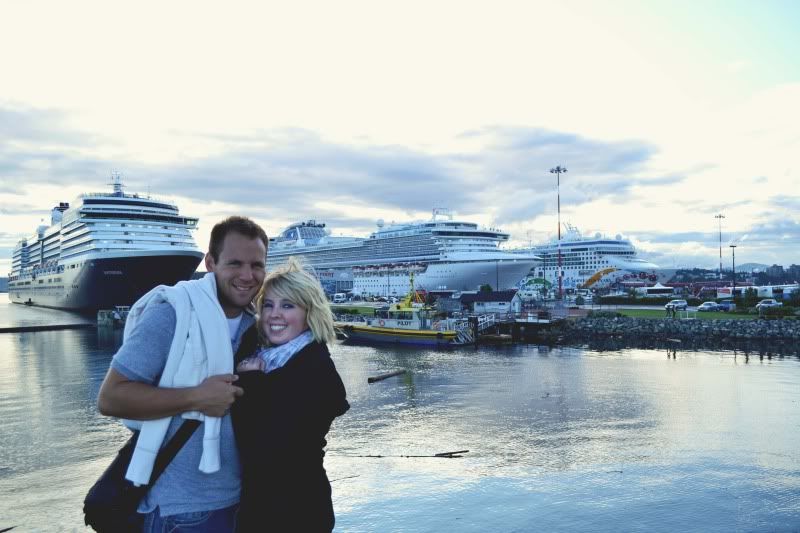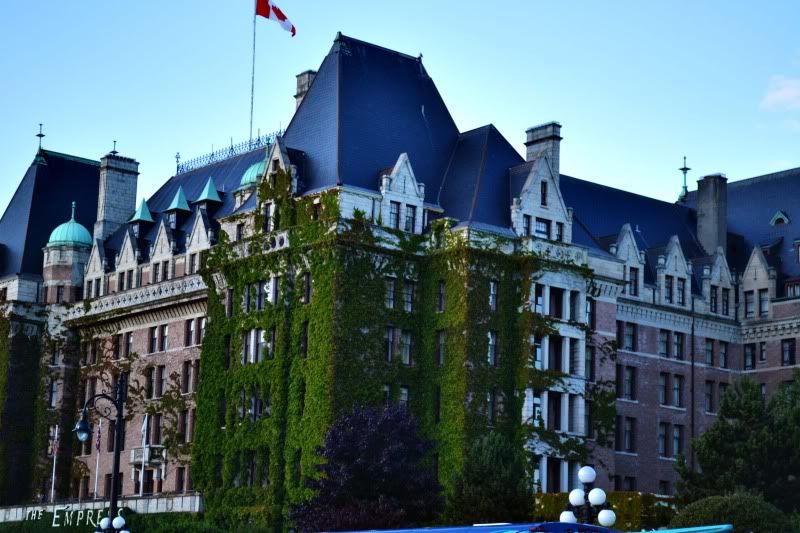 This Hotel was BEAUTIFUL Brek wants to go back and stay in it so bad!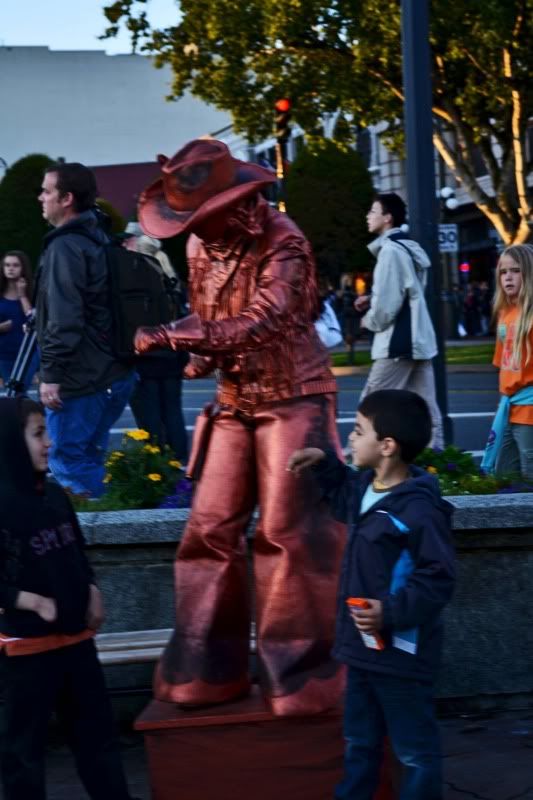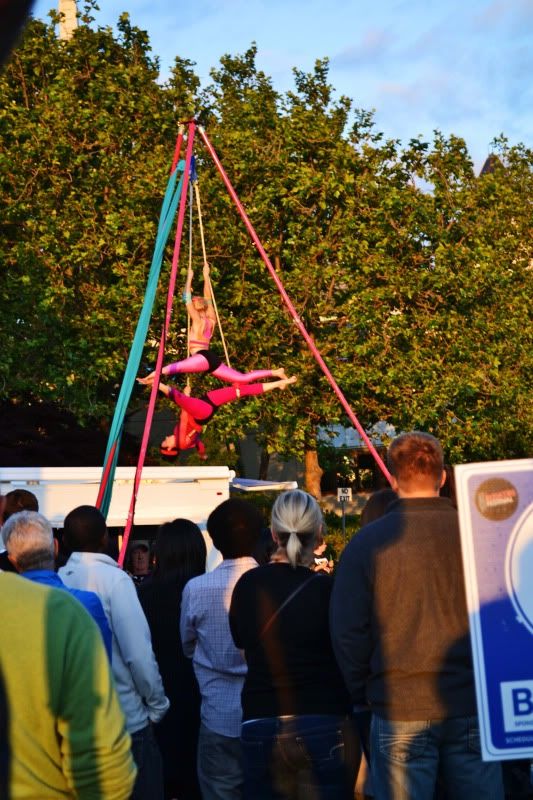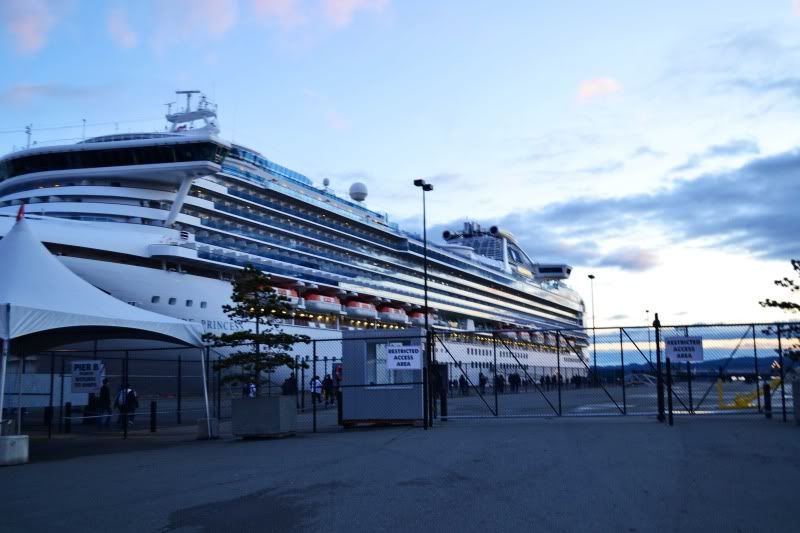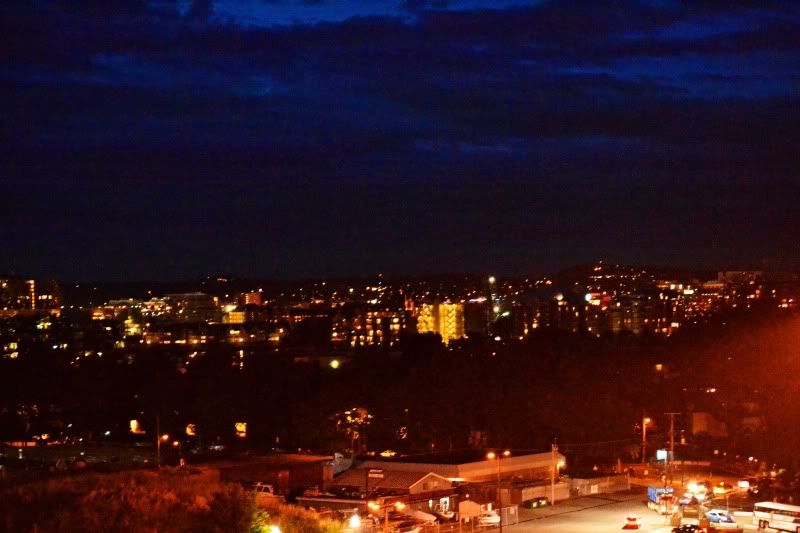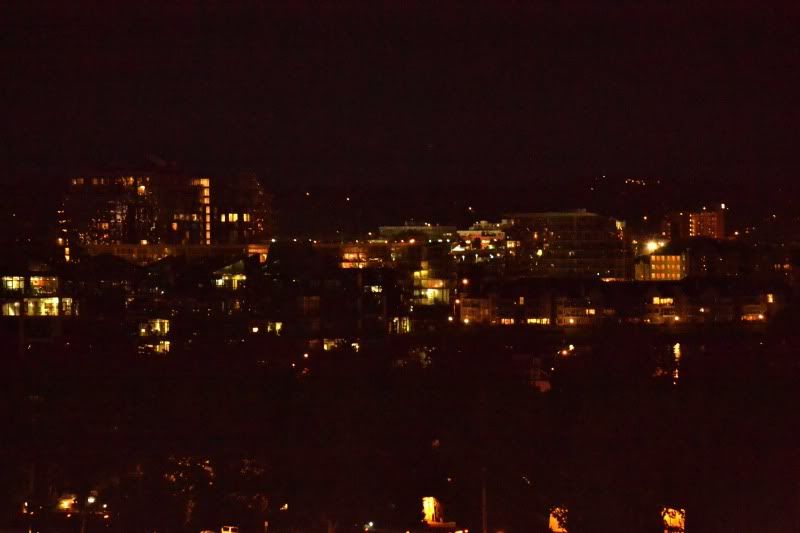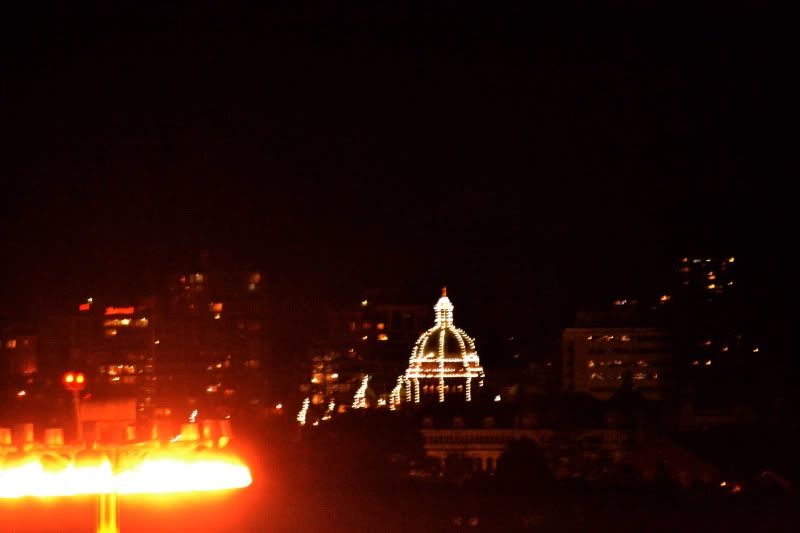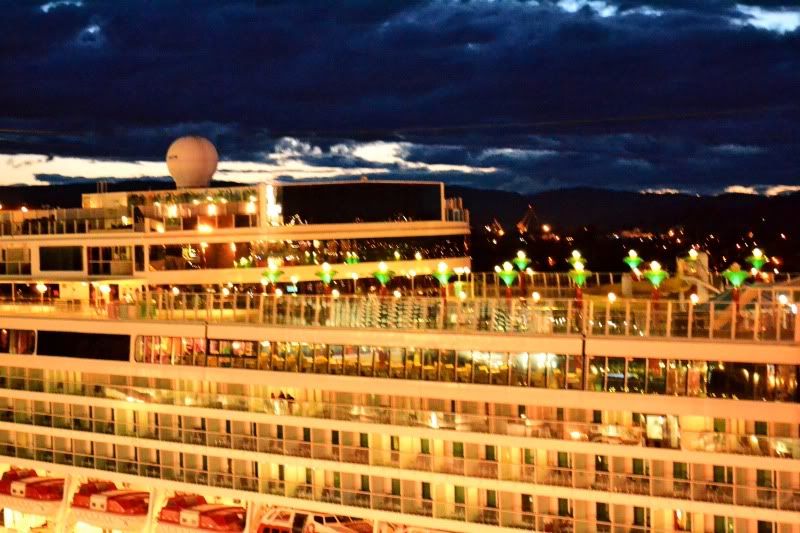 This was the ship right next to us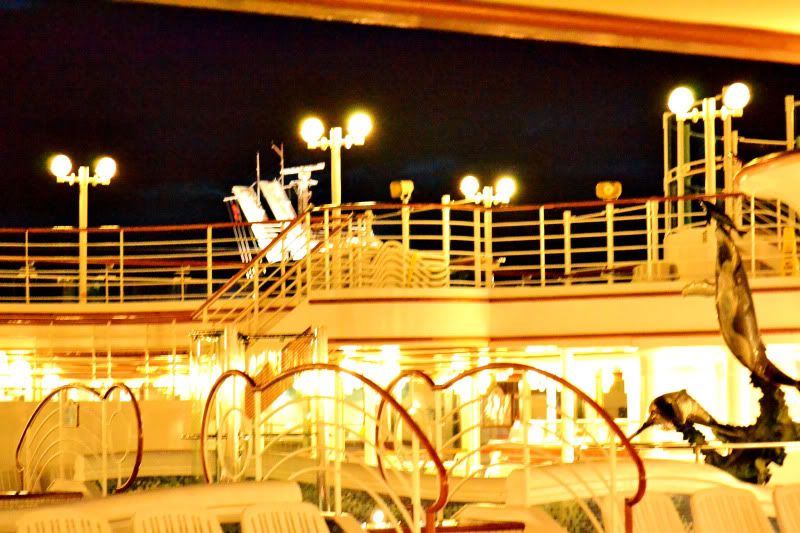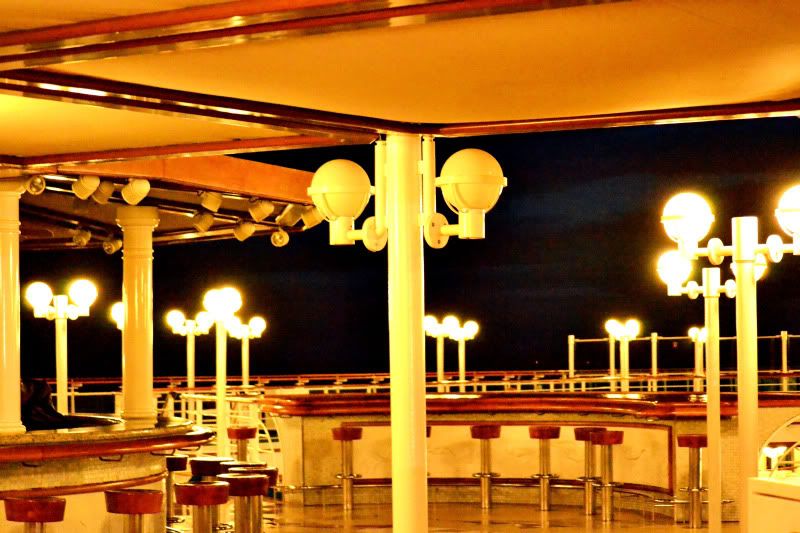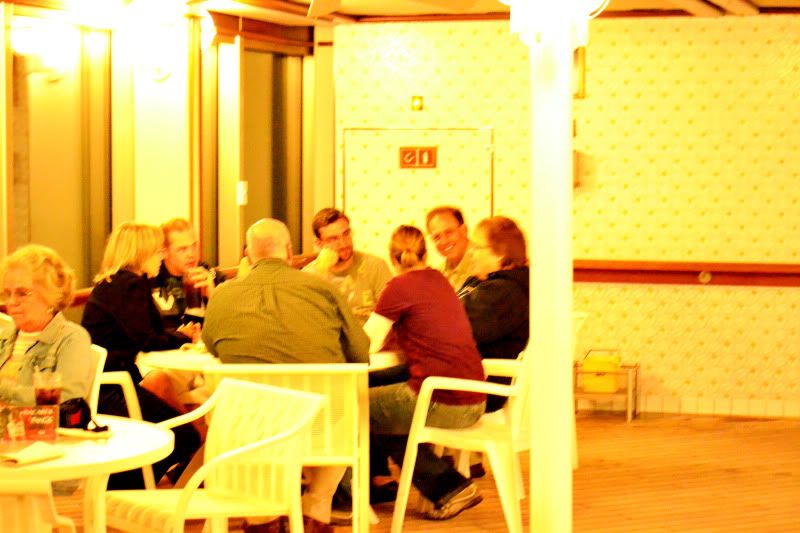 Brek was playing around with the camera settings and took these cool pictures of the ship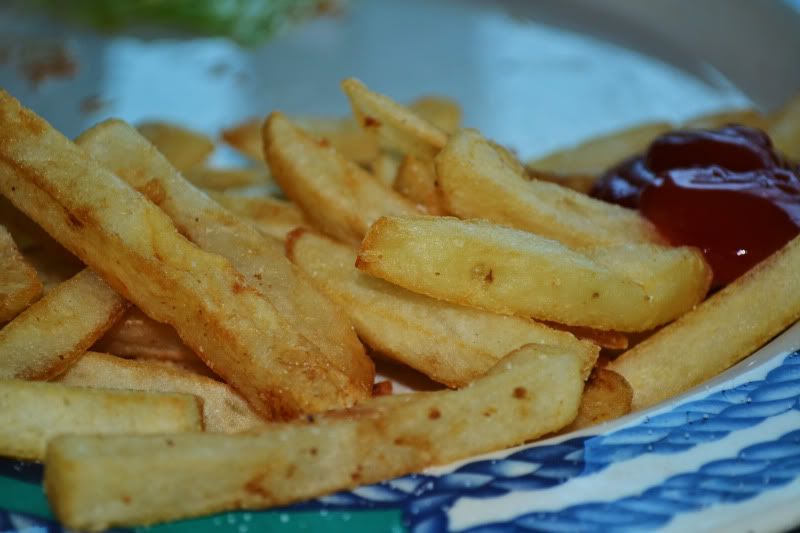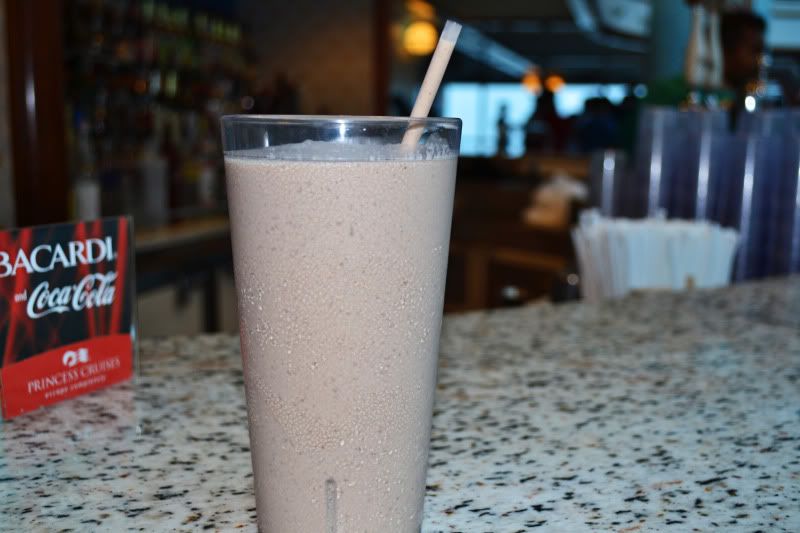 This was our other favorite drink the choco banana I was so sad when I drank my last one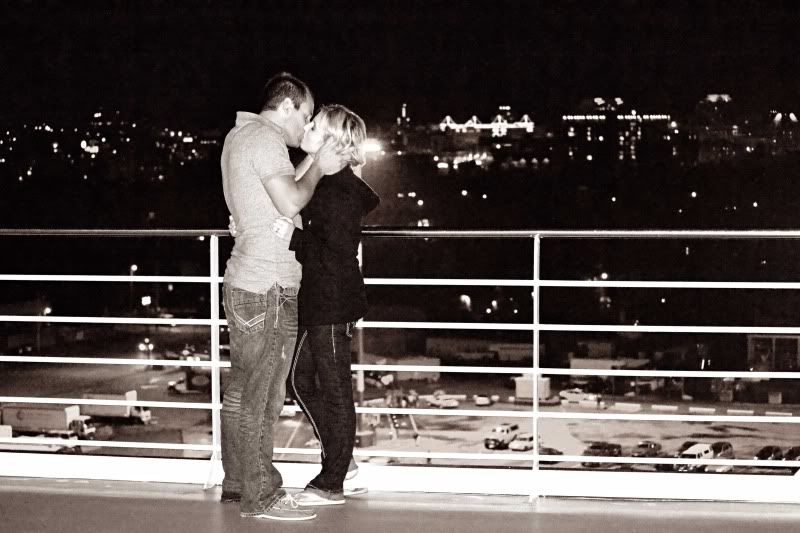 I wanted one picture of us at the front of the ship, and it was the perfect last pic of the trip!
Sunday July 17th we woke up and had to be ready to get off the ship by 7:45 a.m it was earlier then any of us had gotten up in a week! But we checked out off the ship and got back in the car and drove home to Kennewick!
Thank you Pat and Debbie for such an AMAZING trip and an adventure we will never forget!