We finally made it up to Rexburg a week ago and I was soooooo HAPPY!! I have been extremely homesick lately and really needed it! I blame the pregnancy hormones but I would seriously break out in tears randomly sometimes because I wanted to go so bad!
So that man of mine made my whole day and we planned the weekend to go up there! I only went to school half the day on Friday, came home and packed us all up and he was home by 5 and we were on the road by 5:30!
Road trips with Brek are really becoming my favorite things.... we have peanut butter m&m's, the ipod blasting, sing alongs, and some really great conversations! I will not sleep in the car unless I really dose off without knowing so I kept the guy company all the way there. We pulled in at 1:00 a.m (way later than either of us had stayed up in a LONG time) and even stepping out of the car into that Rexburg summer night made me smile down to my toes! It felt so good outside!!!
We went straight to bed and then woke up with everyone else Saturday morning! It was so fun to see my fam!
We spent the morning getting ready for my baby shower that my mom and sisters threw me because we really didn't know when I would be back up again. It was so cute and they did such a good job! This little girl is already completely spoiled and got so much stuff! It was so fun to see everyone too!
Cut my dads hair and he looks so afraid
We matched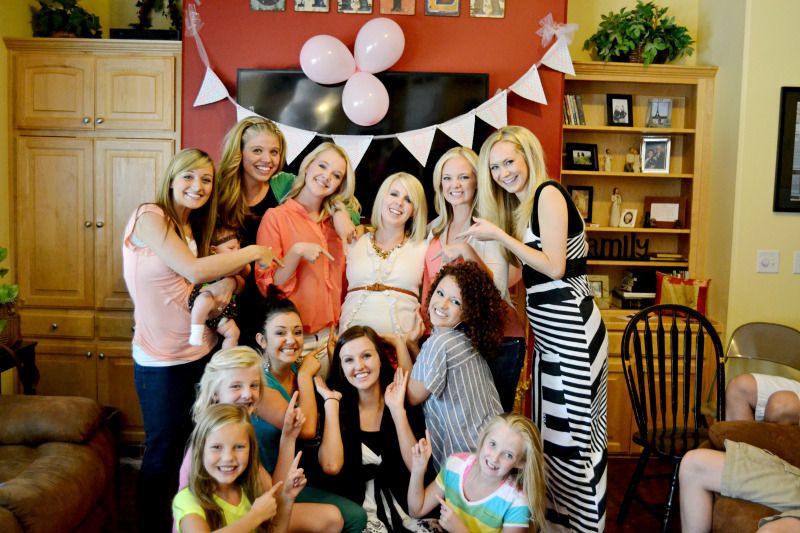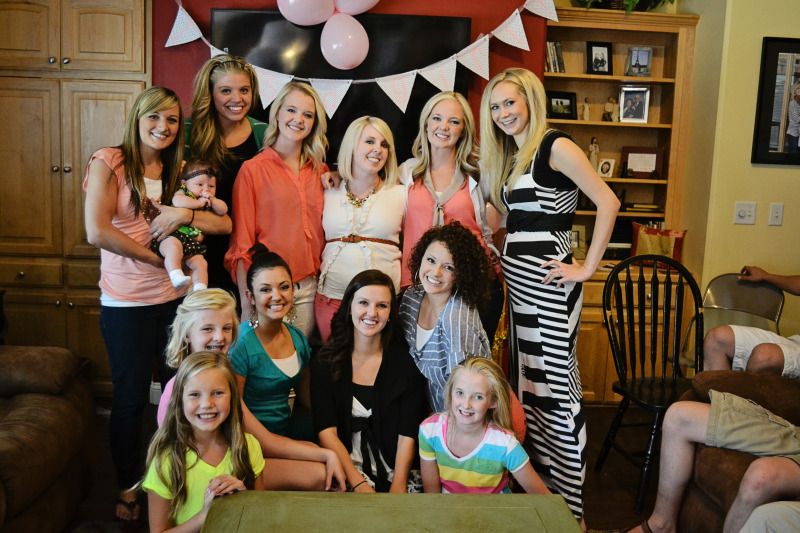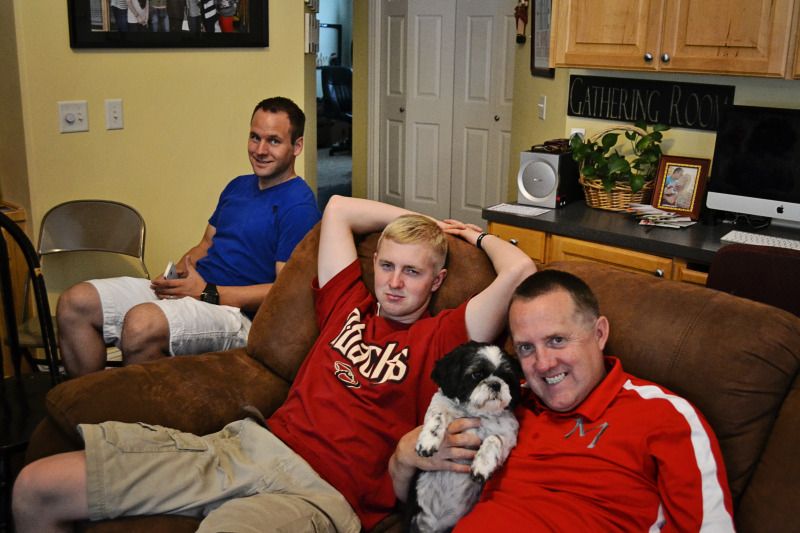 They escaped for most of the shower and went to the driving range, but didn't quite miss the whole thing
Saturday night everyone had stuff going so Brek and I went and got sno cones and took a drive around good ol' Rexburg! I miss that place so much!!! And I have craved a malibu barbie sno cone all summer!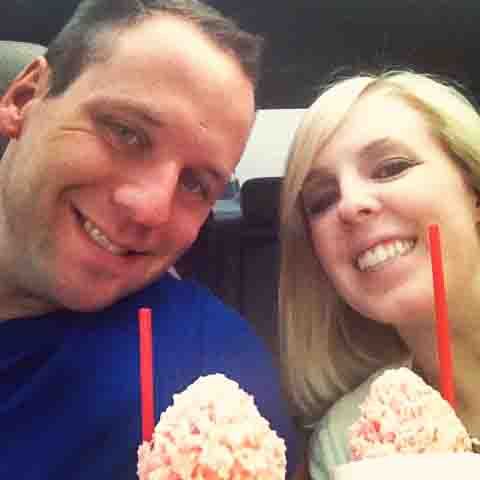 Sunday was a great day! We got to go to church and see some more friends there, and then just spent the afternoon relaxing and visiting with everyone that dropped by! Then we went out into my parents perfect backyard and sat on the tramp for a long time! It was so perfect and I really never wanted to leave! The weather is seriously the most perfect you could ever get!
We came in though because we had been waiting all day to have our Hunger Games party and we watched that to finish out the night! I wish it wouldn't have been so dark so I could have taken more pics because everyone fell asleep in the funniest positions one of them being izzy sound asleep with her foot in my dads face and he was out cold too!
Monday was a jam packed day too! We spent the morning picking out outfits for a quick family pic that afternoon, we took the pics at the seminary, then we ran to Broulims grabbed some lunch and then were off to go boating with the Stevensons!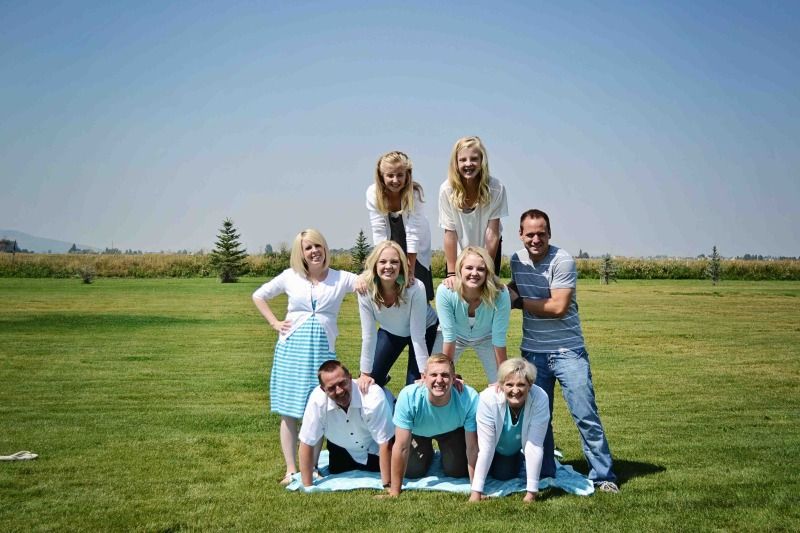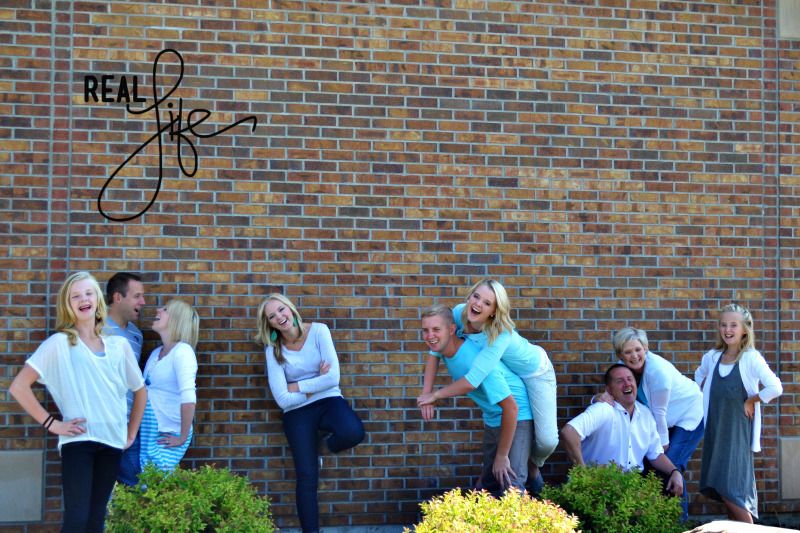 I could go on and on about the stories about boating, and I am just happy that I got to be the picture taker... They were CRAZY! But it was so fun to watch! We got the perfect dock and had delicious food! It was a perfect day!
He was running to push them off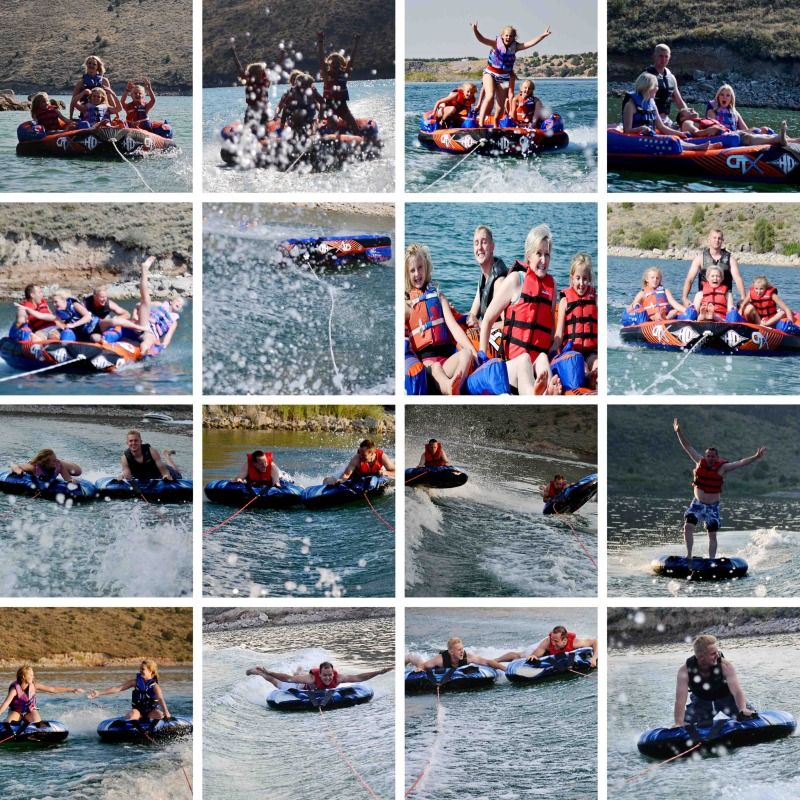 Hayden had pushed them all in at the end and they were all cold and not happy about it!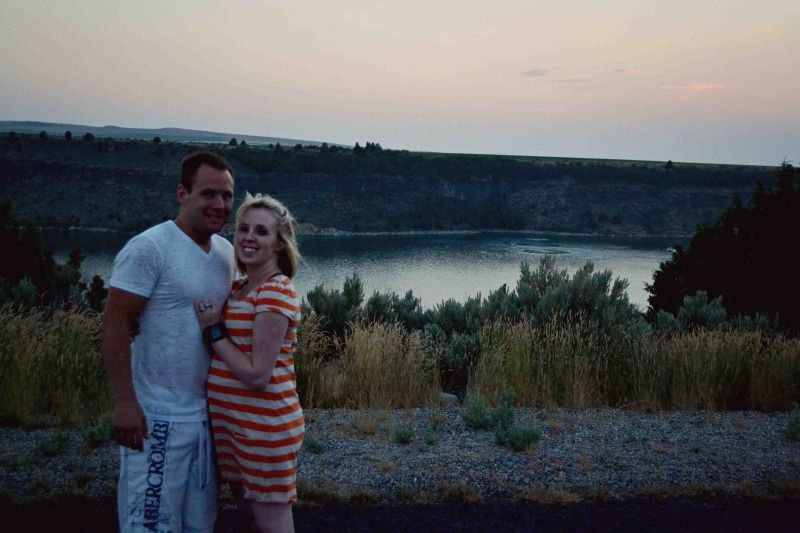 Tuesday came and we just visited and hung out and when it came time to leave we were both pretty sad! My little town even has worked its magic on Brek and he is pretty convinced its a pretty awesome place too!
We are now back to life in the hot St. George and I am trying to have a better attitude about this weather.... One thing we did take from Rexburg is our colds! Brek has been down for a good week and just when I though I was safe I got struck yesterday!
It was such a nice vacation and thank you family for being so great, and for everyone else that made our visit absolutely perfect!!
We LOVE YOU ALL!